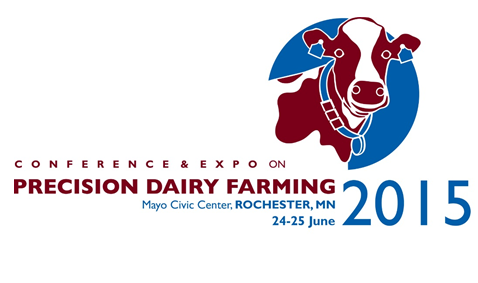 The program for the 2015 Precision Dairy Conference and Expo is a partnership between University of Minnesota and University of Kentucky along with key industry sponsors. Platinum sponsors participating in program development include Afimilk, AMS-Galaxy, DeLaval, and Lely. Other program industry partners so far include SCR, Select Sires, Semex, CowKühlerZ, C-Lock, Medria, Uniform-Agri, and Smartbow. Additional companies will be exhibiting at the trade show.
The preliminary program includes Dr. Henk Hogeven from the Netherlands who will give an update on precision dairy in Europe. Other topics include various new and exciting cow sensors, automated calf feeders, robotic milking, 'smart barns', methane measurement, automated body condition scoring, real time cow localization, milk composition and quality sensors, and more.
Producer showcase sessions include the most automated dairy barn in the U.S. today, a new automated calf feeder barn with a feeder that can feed four calves at the same time, and the effective use of inline parlor sensors by a dairy in California. More yet to come, stay tuned.
Event registration is open at precisiondairyfarming.com/2015 for both attendees and additional sponsors. See you in Rochester in June!