Land rate adjustments are likely for 2015
Across U.S. crop-growing regions, cash rental rates in 2015 will have to move lower because of the huge gap between those rates and breakeven, two university economists argue.

Using late July's $3.40/bu. corn price for fall delivery and a $10/bu. soybean price, the breakeven rental rate for a split corn-and-soybean rotation is $40 per acre, says Dale Nordquist, University of Minnesota ag economist. That figure includes a $61 return for labor and management for corn, a $40 return for soybeans, average five-year crop yields and 2013 expenses. 

"The big unknown is crop price," Nordquist explains. Factor in a more optimistic $3.91/bu. for corn and $11.40/bu. for soybeans and breakeven rent rises to $123. A more bullish scenario of $4.42/bu. corn and $13/bu. soybeans would see breakeven rent climb to $205/acre.

Although other experts say major declines won't happen for several more years, there is consensus that lower rates are on the horizon. Producers can find savings by understanding land trends in key corn-and-soybean states and effectively negotiating rental rates.

Already, rental rates are positioned for a downturn. Average lease rates in southern Minnesota range from $196 per acre to $274 per acre, and producers staring at losses will be less inclined to compete head-to-head for very high rates, Nordquist notes.

"Farmland rents to be negotiated this summer and fall will likely be $10 per acre lower in 2015 to start a three-year adjustment process," predicts Gary Schnitkey, University of Illinois ag economist.
Three-Year Process. A recent analysis of 2015 crop budgets outlines what those changes might look like in the key corn state of Illinois, where average rents are $280 per acre with extreme cases of $500. That's virtually the same as in 2013. In three years, Schnitkey expects average Illinois rents for highly productive land to be $55 per acre lower than today, around $225. "Everyone wanted to see if $4 corn was real," he explains. "Just as cash rents rose in recent years as a result of increases in operator and land returns, now cash rents should decrease."
Expected returns over costs won't pay for average cash rents, let alone provide a return to operators. For high-quality central Illinois farmland, land and operator returns will be $251 for corn-after-soybeans, lower still for corn-after-corn. That's a $44-per-acre loss compared to the current rental rate of $295.

Even less money would be available for cash rent if corn prices continue to fall; Schnitkey's 2015 budgets assume corn prices of $4.20/bu. and 196 bushel yields. By late September, prices had slid below $4.
Slower Decline Possible. Not all think cash rents are ready for an about-face just yet.

"It will take two years of losses to reduce cash rents," predicts Doug Stark, CEO, Farm Credit Services of America. This year might only mark the start of the adjustment process.

Averages don't tell the entire story. For example, farmers who forward-priced a percentage of anticipated 2015 corn at $5/bu. would see returns $149 per acre higher from crop revenue alone. Those levels would provide a profit even at the level of average cash rents for 2014. 

Even so, it isn't likely these forward-thinking farmers will prevent a major rent adjustment, says Steve Johnson, farm management specialist for Iowa State University Extension. 

"This group is risk-averse," he explains.

Budgets from Iowa State University show a 4% decline in 2015 average cash rent, to $276/acre. The reduction likely will take two to three years to play out. "A lot of resistance to current rents is likely from operators," Johnson says. He expects lenders to be a major force in lowering cash rents because they are less likely to loan money for high rents set to lock in a probable loss.

"We will look at crop insurance guarantees," says Kevin Harding, treasurer for GFG Ag Services in Stanberry, Mo. His bank won't loan money for rents above breakeven if rates appear to put a farm in the red. 

Some operators might opt to pay higher rents if they have strong working capital and can pay the difference. Producers with low payments on farmland they own might also afford higher rates, using low land costs to subsidize cash rents. "It's all about working capital," Harding explains.

Another option is flex leases, which in Iowa represent 16% of cash rental agreements. The flexible portion of 2015 farmland rents automatically will be reduced because lower crop prices will signal the producer expects to see lower crop revenue in the year ahead, Johnson says. 

Producers should keep the trend toward lower rental rates in mind for the months ahead and look for ways to negotiate rates that will support continued profitability.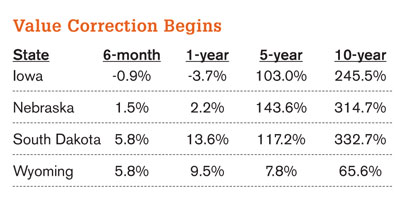 Of the four states serviced by Farm Credit Services of America, only Iowa saw a downturn in farmland values during the first six months of this year. The second half of the year and 2015 could mark a transition for multiple states.
---
Land Values Coast Lower
Late this past fall, most farmland experts and financial gurus staring at $4 corn predicted a significant reduction in land values. Although the major decline hasn't happened yet, experts think it's not so much an issue of if but when.

"In Iowa, we saw a 10% drop in farmland values in the first quarter," says Doug Stark, CEO, Farm Credit Services of America. "As crop commodity prices rose this spring, values regained that 10%." The spring of 2013 saw $20,000-per-acre land sales in Iowa, a bellwether state for land values, and the same thing happened this spring. "Values haven't changed much on the top end," he notes.

Iowa values were barely off 0.9% for the six-months ending July 1, and they fell a modest 3.7% year-over-year, Stark's data show. Over five years, values have more than doubled, and values have risen 246% in the past decade. 

The other states in his district—Nebraska, South Dakota and Wyoming—have seen values continue to escalate. For the six-month and one-year periods, Nebraska values rose 1.5% and 2.2%, respectively; South Dakota values rose 5.8% and 13.6%; and Wyoming values rose 5.8% and 9.5%. "We're seeing a much narrower band of land values than in the past," Stark explains.

At the same time, "there is not a land bubble," argues Chad Hart, ag economist at Iowa State University. Historical data show that for every 2% change in farm income, land values change 1%. "The 30% decline in crop income would suggest a 15% correction in land values," he says. 

In Hart's view, the coming correction will not look much like the 1980s. The past decade's land boom and adjustment over the next few years will look a lot more like the period from 1910 to 1930, which experienced a modest land-boom correction.