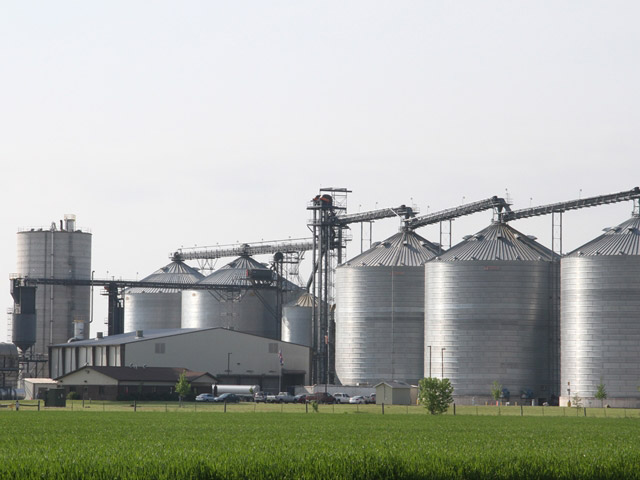 Biofuel advocates note that ethanol makes gasoline burn cleaner, improving air quality.
Turning corn and sugar into energy is inefficient and crowds out land that could be better used to produce food, according to an environmental advocacy group.
"The quest for bioenergy at a meaningful scale is both unrealistic and unsustainable," the World Resources Institute said in a report Thursday. The Washington-based nonprofit group recommended governments phase out biofuel subsidies and limit the amount of ethanol that must be blended with gasoline.
Supporters of bioenergy say it offsets the use of fossil fuels, providing a cleaner, renewable resource in lieu of oil. The report concludes that using biofuels to meet 20 percent of the world's energy by 2050 would require harvesting twice as much plant material as current levels. At the same time, such an effort has the potential to widen the gap between what's needed to feed the world and what's grown, the institute said.
Ethanol produced from sugarcane converts about 0.2 percent of sunlight into energy. Solar panels, meanwhile, can generate more than 100 times the usable energy per hectare, Tim Searchinger, author of the report and a research scholar at Princeton University in New Jersey, said in an interview.
"It would be nice to believe that there was this massive quantity of bioenergy that was available, it's just unfortunately not true," Searchinger said. "People need to improve their understanding of this issue."
The world faces a 70 percent "food gap" between available crop calories this year and what's needed for 2050, the report found. If all crop-based biofuels ended, that gap would shrink to 60 percent. More ambitious targets, such as those proposed in Europe and the U.S., could mean biofuels consume about 30 percent of the world's crops, according to the report.
Sugars, Starches
The report overstates the value of corn and sugar in feeding humans, said Pat Gruber, chief executive officer of Gevo Inc., an Englewood, Colorado-based biofuel producer that uses corn and plant waste to make ethanol and isobutanol. Sugars and starches don't contribute to nutrition.
"They don't consider food properly," Gruber said of the report's authors. "The starch in corn doesn't add value to anything -- it's just calories."
Ethanol offers a 40 percent net energy gain from farm to pump and it reduces greenhouse-gas emissions, South Dakota corn grower Keith Alverson said in an e-mailed statement from the National Corn Growers Association.
"There is more than enough corn to meet all demands: food, fuel, feed, and fiber," said Alverson.
'No Alternative'
The U.S. Environmental Protection Agency in November punted on setting quotas for the use of renewable fuels last year. Under a 2007 law, refiners are required to blend billions of gallons of renewable fuels like ethanol and biodiesel with gasoline. A slowdown in U.S. gasoline demand meant adding biofuels to a level that might push them above a maximum percentage and damage engines.
Even so, use of biofuels is necessary to oxygenate gasoline, making it burn cleaner and reducing smog. "In the U.S., there's no alternative anymore" to ethanol, said Salim Morsy, a Bloomberg New Energy Finance analyst.
"I don't see this report as having any sort of material impact on the demand for ethanol and biofuels and the current market dynamics globally," Morsy said.