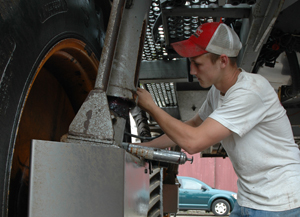 The Dells firm up their employment guidelines.
Gregory Dell was born to farm. At 16, his dreams for the future are already rooted in the Westminster, Md., farm where four generations of his family toil.

His father and mother, Gary and Crystal Dell, are tickled that their son is so passionate about returning to the farming operation. There have been times when they've depended on him so much that they worried farming might be the last thing Gregory would want to do in life.

"Now I'm worried that he's made his mind up too fast," Crystal says. "I want him to experience some of the world, and I especially don't want him coming home out of a sense of obligation."

Sooner or later, almost every business owner faces the issue of whether or not to hire family members. Developing a written family employment policy can help negotiate the issues that come with nepotism.

Gregory's uncle Tommy, who died in a farming accident in fall 2010, was a mentor to Gregory. He had been teaching the teenager the crop side of the business and trusted Gregory to plant several hundred corn acres. Gregory also owns his own beef cattle.

Job Requirements:
---
A family employment policy:
spells out the criteria for hiring and employing any family members.

helps instill a business-like environment.

allows managing family members to base decisions on a written policy.

details the experience family members must attain to be considered for employment.
Talking it out. Everyone knows teenagers are more likely to reveal their inner thoughts to an outsider than to their parents. So when Kevin Spafford, Farm Journal succession planning expert, met with the Dells this past fall, he included a session with Gregory. 
The last thing a teenager wants is more rules, but understanding expectations can ease uncertainty. Spafford is working with the Dells to develop an employment policy that reflects the family's goals and values. When it is completed, Gregory and other family members will know the employment requirements. 
"In some families, an employment policy helps avoid entitlement," Spafford says. "It allows managing family members to base decisions on a written policy rather than on emotions." 
Gregory admits that he feels the farm needs him more because of Tommy's death. As a high school junior, he also is starting to feel a little pressure to firm up a decision about his future.
"Talking things through with Kevin helped me step back and better see my family's point of view," Gregory says. "Uncle Tommy told me I need to go away for at least a year. I know it is important to learn what else is out there, but it will probably help me appreciate what I have when I do come back."