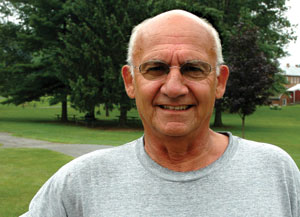 There's nothing wrong with hanging up your boots. 
These days, Roger Dell is more likely to wear a pair of boat shoes than work boots. The hand that once negotiated the turn rows of his Westminster, Md., farm now guides a 48' sportfishing boat about the estuaries of Chesapeake Bay. The scent of saltwater, in his opinion, is a worthy replacement for the first whiff of freshly turned soil.

Last year, the 62-year-old Dell decided it was finally time. Neither of his children were interested in returning to farm. However, his partner and brother, Greg, had three sons living on the farm and some of his children were already showing interest.

"Farming is and has been very important to me, but I made my mind up a long time ago that I wasn't going to let it be everything," Roger says.
Financial security. To help prepare for the future, Farm Journal succession planning expert Kevin Spafford and his team complete a financial needs analysis of all active family members.

"This exercise is especially important for the senior generation, which may be transitioning out," Spafford says. Addressing financial security includes looking at business and nonbusiness assets and comparing projected financial obligations against projected personal financial resources.

"For Roger, we determined what value he needed to derive from the business to reach his goals," Spafford says. "We then isolated the business assets and determined a 20-year payout that will provide Roger and his wife, Deanna, enough income to bridge the gap without compromising the integrity of the farm operation."

In negotiating an equitable settlement, the Dell brothers faced a situation common when one partner retires. A one-time cash buyout would not only have put the farm on tough financial footing but also have tax implications for Roger.

"I was exiting the farm to make room for more people, not to put added stress on it," he says.
To sidestep the issue, it was decided that Roger would receive an annual note payment and an hourly wage for working on the farm. He pays for his own medical insurance. Although having health insurance provided by the farm sounds good to a retiree, promising to cover Roger for life would have been an open obligation to the farm operation.

Since Roger's payout is spread over two decades, Spafford also evaluated the life insurance holdings of all the Dells to protect both brothers. The family knows too well that the unexpected can happen.

In September 2010, Tommy Dell, a third-generation partner and Greg's son, was killed in a farm
accident. Roger says Tommy's death has given him plenty of reason to pause and consider what's important in life.

"I've been at the farm more than I might have been otherwise, but it's purely in an advisory role. We miss Tommy and his abilities, but everyone is stepping up to make the farm function," Roger says.
Sibling differences. Greg couldn't be more different when it comes to retirement. "Roger is probably the smart one," Greg jokes. "Farming is my job, my hobby and my life. My kids all live within a few miles of me and this is what I do."

Spafford admits that retirement probably should be a more frequent topic in the succession planning process. Some hard-charging farmers consider retirement the equivalent of giving up. Others have trouble relinquishing power. Sometimes their work ethic is so strong that an individual has no idea of how to have a life once retired and beyond the farm gate.

"In some cases, not retiring is just fine too. In succession, we don't talk about retirement in terms of 'riding off into the sunset,'" Spafford says. "We think of it as working in a different capacity. The retiring generation becomes a mentor to the younger generation and acts as chairmen of the board."

The key for Roger is having a passion for the boating life. "I bought my first boat 41 years ago and couldn't get enough of it. My wife is also a boating enthusiast," he says.

"I feel fortunate to have found something else that feeds my soul beyond farming. I feel good about stepping away so the next generation can grow. I had my time."
---
Questions for Retirement
Lori Esther has been thinking a lot about the future: her children's future, her grandchildren's future and the future for she and her husband, Chet. As the Esther family transitions their farm to the next generation, Lori and Chet are wrestling with what retirement looks like for them.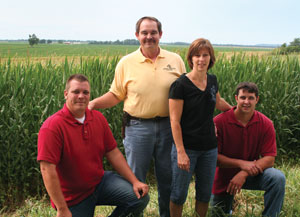 As Chet and Lori Esther make plans to retire, their sons Ryan and Chad are learning the ropes of the family's grain operation.
PHOTO: Jeanne Bernick
For hard-charging, successful agripreneurs such as the Esthers, the life-altering change of retirement is not always easy.

"It's something we talk about all the time but fear actually doing," Lori says. "Not knowing what our days might look like is a bit scary."

Part of discerning the right retirement path is knowing if future income will meet expenses and
provide funding for various retirement activities and plans, notes Josh Sylvester, Certified Financial Planner and part of the Farm Journal Legacy Project planning team working with the Esthers.

"Financial security depends on an honest assessment of what you're likely to have and what you expect to need," Sylvester says.
Put it in writing. One way to start down this path is to take time to detail in writing the ideal situation you want to see in the future—vocationally, financially and in terms of your family.

"All too often, people sacrifice opportunity and falter due to self-imposed constraints by thinking first and only of money," says Kevin Spafford, Farm Journal succession planning expert. "It's important to carefully consider what kind of life you want to build."

Spafford suggests thinking about the following questions when considering retirement:
How will I spend my time in retirement?
Will I continue to work in the business or create a new venture?
As I prepare for retirement, how do I want to develop my business? Do I want to support expansion, prepare for sale or create a legacy for future generations?
Are there alternatives to complete retirement?
Are my children, grandchildren, loyal employees and extended family interested in continuing to grow the business?
Do I see a financially satisfying path on the way toward retirement?
 
—Jeanne Bernick