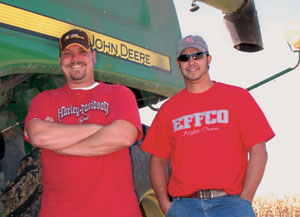 An assessment tool helped brothers better understand each other.
Ryan Esther buys when he spots a deal. His younger brother, Chad, researches for months. Ryan talks agronomics and yields; Chad talks economics and bushels. They both love to farm.

Like many farm partnerships, the Esther brothers have different skill sets and motivations that can enrich their business and create problems, says Kevin Spafford, Farm Journal succession planning expert.

"When we counsel individuals in a co-management environment, we look for areas of compatibility related to complementary and conflicting characteristics," Spafford says.

Complementary is not "sameness" and conflict is not necessarily opposition, he adds. Two people with complementary characteristics may be polar opposites and work in a combative environment.
What's important for the Esthers is to know each other's motivations and their complementary and conflicting characteristics. Spafford encouraged the Esthers to complete an Individual Directions Inventory, developed by Management Research Group, which helps measure motivations. Understanding what makes each other tick is helping the Esthers define farm business activities that provide the highest satisfaction.

During their first year as farm partners, the brothers had no problems working together. "But it might have been because we were too busy farming to find time to argue," Chad says.
---
Opposites in Partnership
The following is a summary of Chad and Ryan Esther's complementary and opposing characteristics as defined in their personal Individual Directions Inventory assessments.
Structuring: Satisfaction in controlling one's environment with organization, precision and thoroughness.

Chad enjoys being efficient, organized and paying attention to detail. He likes creating order out of chaos. Ryan is not attracted to working in a precise, methodical manner. He is more comfortable with flexibility and disorder.
Controlling: Gaining satisfaction from being in charge, having power and authority, influencing and controlling people and events.

Chad is not attracted to positions of authority and influence. He's less comfortable being the one in charge. Ryan enjoys being in charge. He's comfortable achieving results through power and influence.

Stability: Gaining satisfaction by maintaining a predictable, secure and consistent environment.
Chad values feelings of safety and security. He prefers a world that is consistent. Ryan is less
attracted to maintaining a secure and consistent life. He might prefer rapidly changing circumstances.
Excelling: Gaining satisfaction by challenging oneself, pushing for the highest levels of achievement. Chad and Ryan both enjoy working toward goals. They're drawn to achieving at the highest levels.
Enduring: Gaining satisfaction from demonstrating persistence, determination and tenacity.
Chad and Ryan are not attracted to demonstrating stamina or endurance in their professional lives. They're both more comfortable with the option of discontinuing something and trying alternatives.