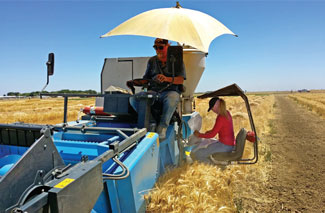 Resistant starch might be an additional profit avenue for farmers
Whether fighting pathogens, developing new varieties or exploring new markets, agricultural research helps farmers break fresh ground on a daily basis. Brittany Hazard, a doctoral candidate in the Dubcovsky Lab at the University of California–Davis, is close to creating another avenue of profit for wheat producers by inducing mutations in durum wheat genes to boost resistant starch content in grain by more than 750%.

Demand is already in place for resistant starch wheat products. Resistant starch acts as a functional fiber, and repeated health studies have shown an association with reduced risk of diabetes, obesity, heart disease and colon cancer. A wheat variety with resistant starch might initially seem of small consequence, but if milling companies are willing to pay a premium for that grain, farmers will be quick to notice.  

"There are resistant starch flours on the market, but they're often corn flour blended with wheat flour, or they contain chemically modified wheat starches," Hazard says. "However, there is no wheat flour on the market that naturally has resistant starch."

Hazard has held three yield trials and performed quality testing on grain, semolina and pasta. Overall, the trials resulted in a 10% yield drop, but a significant jump in quality. 

"Ideally, we don't want to see a yield penalty, but you can't always get everything you want," she says. "Regardless, this can serve as a baseline."
Currently, Hazard is collaborating with nutritionists to study health benefits. All of the test results are from durum wheat, but Xiaoqin Zhang, a technician in the Dubcovsky Lab, has transferred the novel gene variants into bread wheat. Eventually, research will go in that direction. Hazard estimates wheat varieties will contain resistant starch within five years. 

"It could happen sooner because when we release the germplasm, breeders will be interested in using it if there is high market demand," she adds. 
---
Why Research Is So Important 
With little natural variation in the wheat genes Brittany Hazard works with, genetic resources are essential to develop new traits. "Without constant research, we wouldn't even have disease-resistant varieties," says the University of California (UC)–Davis doctoral candidate.

For example, a five-year, $25 million grant assisted 55 researchers in 21 states to develop modern molecular marker technology, explains Jorge Dubcovsky, a renowned plant geneticist at UC–Davis. "Now, we've developed a chip where we can put a drop of DNA and get 90,000 molecular markers for that line of wheat. We're genotyping and obtaining genetic information from all over the world," he notes.

Dubcovsky warns of dire consequences when agriculture research lacks primary emphasis. "People think food grows in the supermarket, but it doesn't. We need to fight for our food because there's an army of pathogens trying to eat the same things as humans," he says.