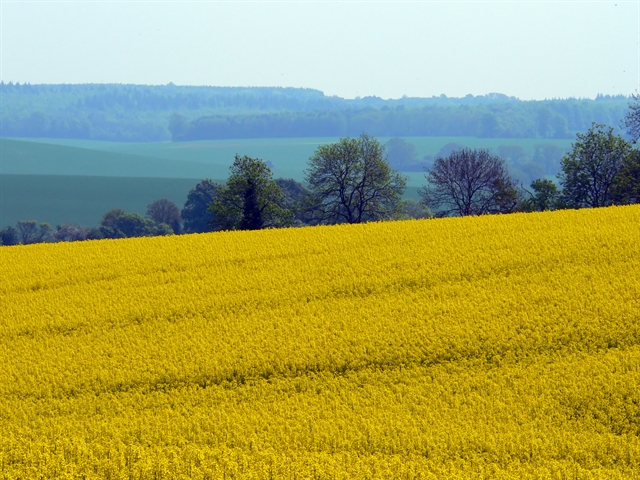 As Californians prepare for an outright ban on plastic bags, some Midwestern researchers are trying to come up with a way to make plastic out of crops, so they can be broken down by a special light and turned into another product.
If the technology can be developed, no longer would bags and other long-lasting plastic products pollute ditches, parks and waterways.
"We make the product, we use the product; when we're done with it, we take it apart and make the next product out of it," said Dean Webster, chairman of North Dakota State University's Department of Coatings and Polymeric Materials and a lead researcher on the project along with professors Sivaguru Jayaraman and Mukund Sibi. "That kind of closes that whole loop on the life cycle of a product.'
Plastics generally degrade slowly, potentially leaching chemicals into the environment or creating toxins in the air when burned. The plastic bag ban in California, which goes into effect in July, sparked one of the most contentious debates in last year's session, with aggressive lobbying by environmentalists and bag manufacturers.
The NDSU scientists are focusing on using oilseed from agricultural crops, cellulose, lignin and sucrose to generate building blocks of molecules that are made into polymers to create plastics. A paper on the team's successful initial experiment was published earlier this month in the international chemistry journal Angewandte Chemie.
The experiment used fructose, found commonly in fruit, to ultimately create a plastic. By exposing the plastic to ultraviolet light for three hours, researchers degraded the material, reducing it back to the soluble building block molecules from which it began.
"Real sustainability involves breaking it back into the building blocks. We have shown that we can break it down into the building blocks and re-make the polymer," Sibi said. "Our real breakthrough is we can design triggers which accept light."
The group is funded by the National Science Foundation and the Center for Sustainable Materials Science at NDSU, to the tune of about $700,000 so far. Sibi said the thriving agricultural production in the region and North Dakota's strong economy make it a good place to study an idea that could lessen dependence on fossil fuels.
Added Webster, "Making chemicals from agriculture products that go into polymers and plastic is much more highly value added than anything related to ethanol."
The researchers said further study is needed to evaluate the durability and strength of potential plastics derived from biomass before looking into the potential of commercial products. The group plans to spend the next two years examining how the process might work with plastics used in cars and electronics, as well as other items.
"This is kind of a crawl-before-you-walk kind of business. We are crawling right now," Sibi said.
"The best feedback we could get if someone builds on our work and publishes new work," Webster said.