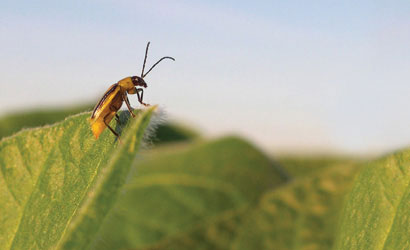 Western corn rootworm breaks through Bt control

Western corn rootworm is a tenacious pest that munches its way through millions of corn acres each year, thumbing its nose at control measures and costing U.S. farmers nearly $1 billion annually in the process. Even the sophisticated Bt (Bacillus thuringiensis) technology that dominates today's corn acres has met its match in the pest—as recent breaches in the technology make painfully clear.

Scientists now fear that the popular Bt technology that has helped transform the seed industry is destined to go down the resistance road. Just nine years after Bt technology became commercially available, lab research shows that western corn rootworn colonies have developed resistance to all Bt proteins currently registered for use in transgenic hybrids.
What does this mean for you? Keep reading to find out.
Read the Story:
Graphics and Reports:
View a graphic overview of the western corn rootworm problem.
Learn how Bt varieties work with this comprehensive table.
Learn more:
Scientists are developing new tools to help farmers stop corn rootworm in its tracks.
University of Illinois professor of entomology and crop sciences Extension coordinator Mike Gray shares his thoughts on the resistance issue.
Read a copy of the entomologists' letter to the Environmental Protection Agency.
---
%%RELATED_CONTENT%%