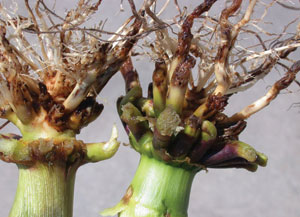 Western corn rootworm breaks through Bt control
Western corn rootworm is a tenacious pest that munches its way through millions of corn acres each year, thumbing its nose at control measures and costing U.S. farmers nearly $1 billion annually in the process. Even the sophisticated Bt (Bacillus thuringiensis) technology that dominates today's corn acres has met its match in the pest—as recent breaches in the technology make painfully clear.

Scientists now fear that the popular Bt technology that has helped transform the seed industry is destined to go down the resistance road. Just nine years after Bt technology became commercially available, lab research shows that western corn rootworn colonies have developed resistance to all Bt proteins currently registered for use in transgenic hybrids.

Published in the June 2011 Journal of Economic Entomology, the study was conducted by the University of Missouri in cooperation with USDA and Syngenta Biotechnology. The lab results are an early warning sign of future field experiences.

To date, field-evolved resistance by western corn rootworm to the Bt toxin, Cry3Bb1, has been confirmed only in Iowa. However, resistance is suspected in portions of Illinois, Minnesota,
Nebraska and South Dakota, according to a letter of concern written by a group of 22 public-sector entomologists. The experts, who represent 14 states and the Canadian province of Ontario, wrote the letter to raise the awareness of the issue—and risk—to Steven Bradbury, deputy director of the Environmental Protection Agency (EPA) Office of Pesticide Programs. Bradbury directs the Special Review and Reregistration Division and the Environmental Fate and Effects Division. The letter is available to read at www.FarmJournal.com/resistance_update.

(Farm Journal made several attempts to reach Bradbury and EPA for input into this report, but received no response by press time.)

An internal EPA memo written in November 2011 contends that western corn rootworm resistance to the single Bt might also be present in parts of Colorado and Wisconsin.

In their letter, the entomologists identify the factors they believe have created the resistance issue, including "widespread use of Bt corn hybrids (or Bt corn plus insecticide) where it is not economically justified, the repeated deployment of hybrids expressing the same toxin in the same fields year after year, violation of stewardship requirements for refuges, and decreased options to employ alternative forms of pest management."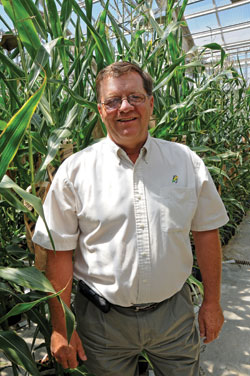 Conducting root digs each summer is an effective way to assess corn rootworm damage, says Illinois farmer Paul Taylor.
At the farm level. The lab results and concerns by scientists don't surprise Paul Taylor—and many other farmers. This summer, the Esmond, Ill., farmer is seeing extremely high levels of western corn rootworm in his fields.

"I'm not saying it's resistance, but it's definitely intense pressure, a lot of root pruning," explains Taylor, who serves as vice president of the Illinois Corn Growers Association. Taylor uses a corn-soybean rotation and also plants continuous corn.
Weather plays a role. While the issue of rootworm resistance concerns him, Taylor adds: "I'm more concerned about the weather at this point."

Months of above-average temperatures combined with dry conditions are exacerbating the rootworm problem, notes Clint Pilcher, DuPont Pioneer director of scientific affairs and insect resistance management.

"We're seeing very early development and earlier [than usual] damage," Pilcher reports.
High levels of insect pressure can challenge any technology, including Bt hybrids, according to Luke Samuel, corn insect traits product development manager for Monsanto.

Samuel says that doesn't mean farmers should jump to conclusions about resistance, adding that Monsanto continues to collaborate with entomologists and agronomists to better understand how to minimize the potential for insects to develop Bt resistance.

"We're trying to identify what the situation is and understand this along with everyone else," Samuel says. "This season, we have worked with growers to implement best management practices on the fields where unexpected damage occurred last season."

Still, the entomologists who wrote to EPA say the collective Bt technology is overused today and at serious risk if proactive stewardship practices are not initiated by the corporations that market Bt products and the corn growers who use them.

USDA's Economic Research Service says 67% of all corn planted in 2012 contained a Bt trait. That represents a 36% increase since 2003, when the first trait for rootworm control was introduced commercially.
 
---