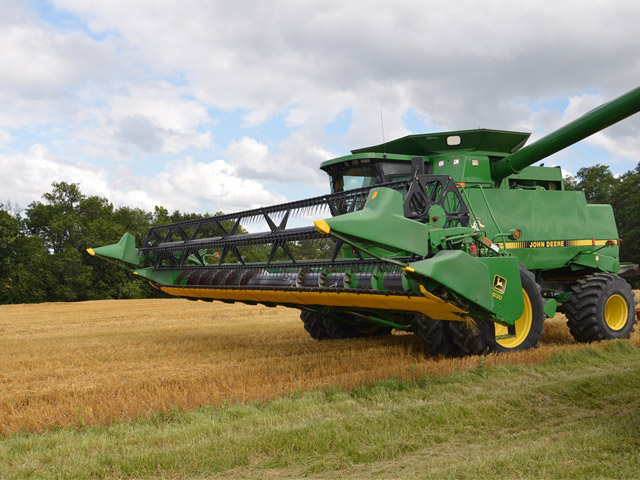 The return of mostly dry, hot weather this weekend in Kansas has spurred the stalled winter wheat harvest.
On Monday, the National Agricultural Statistics Service reported that as of Sunday about 8 percent of the crop had been harvested in the state. Normally by this late in the season, about 33 percent of the wheat is in the bin. Last year at this time 21 percent had already been cut.
Wheat harvest is now in full swing across most of Kansas, with the exception of northwest Kansas and some northern tier counties, said Aaron Harries, marketing director for the industry group Kansas Wheat.
"In many cases yields are better than expected, but that is relative to expecting very poor yields earlier this spring," Harries said. "Better-than-expected in this case doesn't mean above average."
Out in southwest Kansas, Gary Millershaski, a wheat grower in Kearny County, just started Monday to cut fields where the wheat is dry, but those crops "pretty much burned up" before the rains came in May. Those fields are yielding fewer than 10 bushels per acre. But in a couple of days he anticipates getting into the better wheat.
Wheat yields on his farm usually average 30 to 35 bushels an acre, he said.
"This year, if we have a 25-bushel average, I am going to call it a success," Millershaski said after the combine made its first round across one field.
He has close to 2,000 more acres to harvest before he is done.
"We are just starting to crawl, baby steps," he said.
For the winter wheat still out in the fields across Kansas, the NASS rated 29 percent of it in poor to very poor condition. About 41 percent was rated as fair, with 28 percent in good and 2 percent in excellent condition.
The agency's snapshot of the winter wheat harvest as of Sunday shows southeast Kansas had harvested 27 percent of its wheat, while farmers in south-central Kansas had brought in 18 percent and those in central Kansas had cut 11 percent. No wheat has been harvested in northwestern Kansas. Harvest elsewhere in the state was in the single digits, according to the report.
Statewide, about 51 percent of the wheat is now mature, behind the 65 percent average, NASS said.
How is your wheat harvest going? Leave us a comment below or send a photo to AgWeb's Crop Comments section.