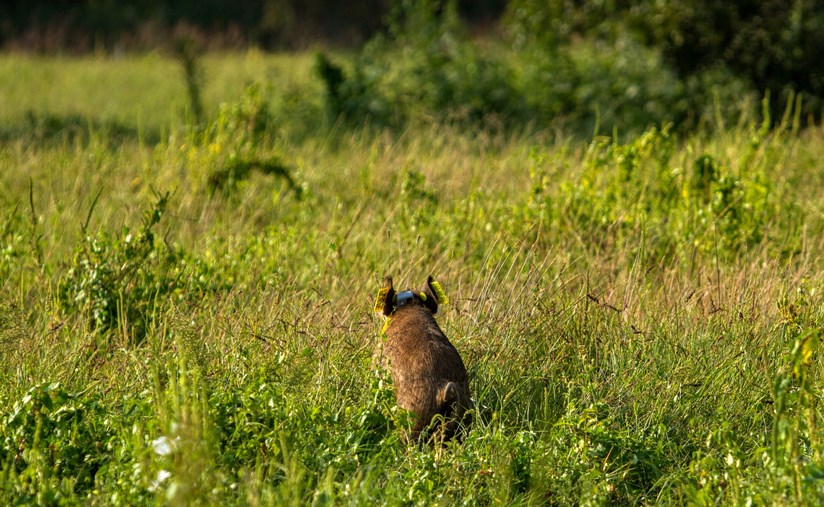 The wild pig bomb perpetually explodes. Shoot, trap, pressure and push, but the march of wild pigs continues across the United States. However, a chemical cavalry is approaching and may provide a major weapon in the control arsenal used by landowners and farmers: Kill the ultimate beast of survival with a poison pill?
Sodium nitrite is no magic pill, but it's a heavy-duty toxicant capable of suffocating a wild pig from the inside out. A single-dose poison, it be can be deployed at sundown and bring down wild pigs by morning. Testing has shown major promise and researchers are hopeful a new oral toxicant will help to significantly curb wild pig populations.
Proliferation of wild pig populations necessarily means a persistent bleed on farm profits. Dale Nolte is the national coordinator for the National Feral Swine Damage Management Program (NFSDMP) and leads USDA's nationwide effort to reduce the impact of wild pigs. He estimates wild pig depredation slams the U.S. economy with an annual multi-billion dollar bill, and roughly $1 billion of the total is exclusive to agriculture: "Recent research results suggest the prior published estimates of feral swine causing $1.5 billion in economic impacts are likely an understatement of actual damages, which could be as much as $2.5 billion annually."
Feet on the Ground
The staggering level of damage reflects consistent wild pig expansion (mainly attributable to illegal transport and release or enclosure escapes) over the past 30 years, from 19 states in 1985 to 39 states in 2016. Wild pigs are consistently on the cusp of a population explosion. Sows can deliver two litters per year with six piglets on average. A phenomenal reproductive rate is combined with exceptional intelligence, according to Jack Mayer, manager of the Environmental Sciences and Biotechnology Group at the Savannah River National Laboratory in Aiken, S.C. "In some cases and exercises, wild pig intelligence is on a par with that of chimpanzees," he says.
How does reproduction, intelligence and adaptability translate to actual feet on the ground? Mayer places the approximate U.S. wild pig population at 6.3 million, with an overall estimate between 4.4 million to 11.3 million. Prolific breeding demands 50 percent to 75 percent of a pig population must be killed each year to keep population numbers in check, a control rate that's often impossible to achieve. With such sobering wild pig numbers sending a chill across containment efforts, the question over sodium nitrite is all the more pressing: What potential does an oral toxicant hold in wild pig control?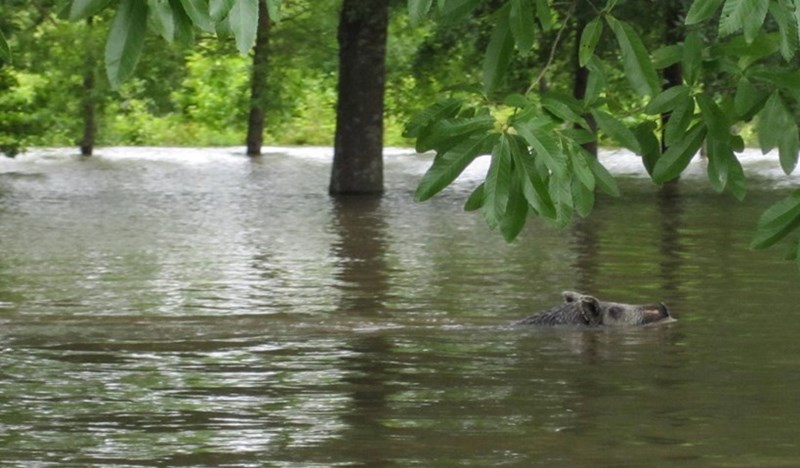 Hoggone
John Kinsey is part of an international team of scientists (Texas Parks and Wildlife Department, USDA-APHIS National Wildlife Research Center, and Animal Control Technologies of Australia) which has been researching sodium nitrite as a wild pig pesticide under its commercial name—Hoggone—for almost a decade.
Kinsey, a wildlife research biologist with the Texas Parks & Wildlife Department at the Kerr Wildlife Management Area, 80 miles northwest of San Antonio, says in pen testing the average time from Hoggone consumption to mortality is approximately two hours. A single dose of sodium nitrite reduces the ability of red blood cells to transport oxygen to tissues: The pigs get woozy, fall asleep and never awake.
"In our research on scavengers, we haven't seen concerns over secondary mortality. The amount of residual sodium remaining in wild pig tissue is very minimal, below the bacon line (the amount of sodium nitrite in bacon consumed by humans). Also, detailed EPA environmental assessments show ground leaching isn't a problem," Kinsey says.
In a field situation, Hoggone would be registered with a species-specific feeder. At a minimum, Kinsey predicts use of Hoggone will require a pesticide applicator license. (Initially, sodium nitrite use would be restricted to state wildlife agencies.) The team's pen trials showed a 95% mortality rate and their research has been submitted to EPA in order to obtain an experimental use permit. Kinsey hopes the team will conduct 2018 field trials in a free range setting. He estimates a two-year wait for a Hoggone label.
"It'll be no magic pill, but I think it's going to be a significant weapon. If we need to kill 70% of wild pigs just to maintain the current population, and considering we're spending over $1 billion every year, then Hoggone could be an important part of an integrated approach."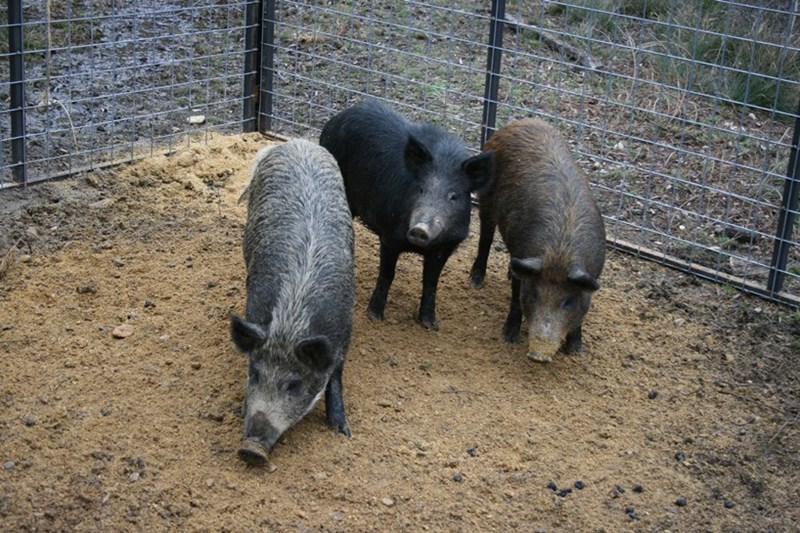 The Lonestar State is home to an astounding 2.6 million wild pigs, and Texas AgriLife estimates only 29% of the population is removed each year. "Overall, what we're doing is not working, and I believe there are more pigs than the estimates," Kinsey says. "There is no other comparable species. We can't even quantify the amount of ecological damage across the nation and that is very scary."
Kurt Vercauteren, supervisory research wildlife biologist with USDA's National Wildlife Research Center (NWRC), emphasizes the addition of another weapon. "Any toxicant developed to safely manage feral swine will be another available tool. There are not expectations that other tools will become obsolete or less important," explains Vercauteren, the primary USDA scientist developing sodium nitrite as a possible toxicant for wild pigs. "From my perspective we need all the feasible tools available to reduce feral swine damages. Therefore, trapping will remain a valuable and important approach for reducing feral swine populations."
Chasing a Judas Pig
In Oklahoma, Josh Gaskamp, a wildlife and range consultant with the Noble Research Institute in Ardmore, says Hoggone potential must be weighed against the lessons of Kaput. Texas and Louisiana approved Kaput (a warfarin-based toxicant) in early 2017, but controversy erupted following complaints from special interest groups over animal health concerns. (The Kaput label has been withdrawn in Louisiana and Texas.) "I don't think Kaput is dead, but it needs a lot more research and transparency like sodium nitrite. We all want to get rid of pigs, but in a humane way. We must be transparent and demonstrate these techniques are effective," Gaskamp notes.
Gaskamp believes the sheer numbers of wild pigs will limit the efficacy of toxicants. "We lose entire crops over a couple of nights. Some farmers are spending an unreal amount of money to replant, smooth fields, repair irrigation and clean up pecan orchards. For people who don't know, the ability of wild pigs to wreck farmland is absolutely incredible. There is just no other animal as resilient as a wild pig."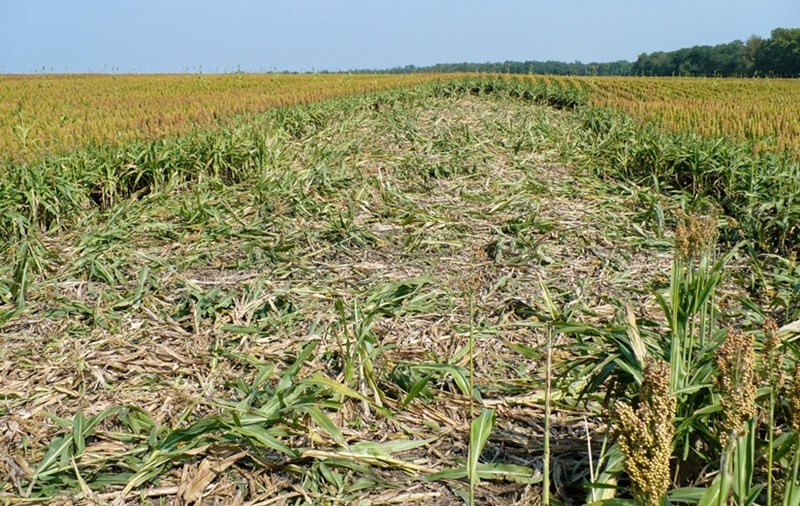 Resilient, indeed. Gaskamp fits GPS collars on wild pigs to track range and movement, and he culls a few when it's time to retrieve the collars. Essentially, he tracks the Judas pig in a sounder and shoots as many as possible when collecting the collar.
In 2016, Gaskamp's smartphone pinged with a mortality alert, automatically triggered when a collared pig is motionless for over six hours. Assuming the wild pig was dead, Gaskamp hopped in his pickup truck and went to find the carcass. "I found the pig motionless in some brush, with a bullet hole on its hip," he remembers.
Shouldering an AR-15 .223, Gaskamp walked toward the carcass. Without warning, the pig jumped up and ran, but not before Gaskamp buried a round in its shoulder. "I backed off thinking I'd wait a couple of minutes and the pig would be dead," Gaskamp recalls.
Three hours later, he was still tracking the GPS signal.
Shot twice, Gaskamp's mortality-alert pig had swum the Red River across a 150-yard stretch of high water into Texas. Gaskamp got permission from the Texas landowner and began following the pig on Texas ground, unable to get a shot off before the pig jumped in the river and swam back to Oklahoma. "Over two days I was going back and forth across the river in a Jon boat trying to bring down this pig. I went back to Oklahoma again, only for the pig to go back to Texas. Finally, she was going up a 200' rise in elevation off the river when I shot her in the neck and got the collar," Gaskamp says.
It had taken three shots to bring down a 150 lb. sow.
One More Weapon
Gaskamp isn't convinced an oral toxicant will be more effective than trapping: "There are going to be rigorous label requirements and that means a lot of hoops to jump through for landowners. Many landowners are going to want to keep using the simplicity of traps." (Again, sodium nitrite use is initially expected to be limited to state wildlife agencies.)
He is also concerned over habituation potential. "Our research shows pigs can become shy of non-toxic bait stations because of negative experience with traps and human interaction," he explains. "We've noticed video evidence of pigs becoming corn shy. They're inherently shy of man-made structures."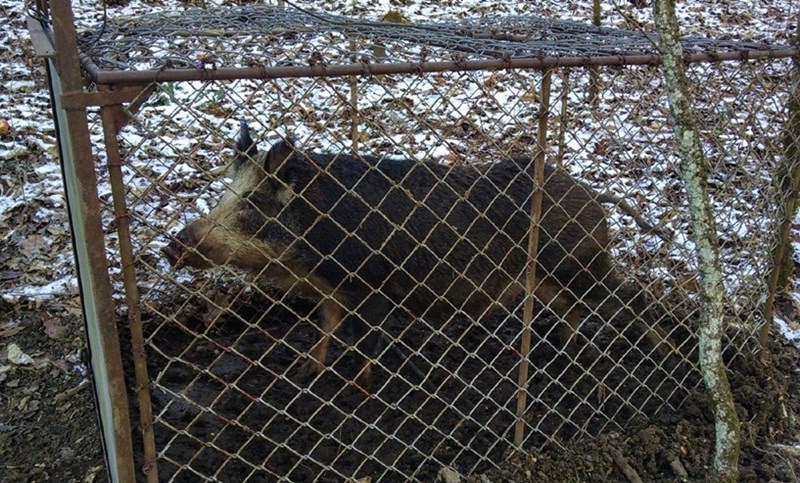 However, Gaskamp says many states are desperate for additional tools to fight wild pig presence and acknowledges an oral toxicant would give land managers an additional option. "We've got a wild pig problem that is growing and not shrinking. An effective toxicant would give landowners another weapon and allow them to kill wild pigs without being present."
"The unfortunate fact of recent history shows these wild pigs learn from every single weapon we use against them," he adds. "Sodium nitrite kills wild pigs, but I'm just not sure how well it will work."