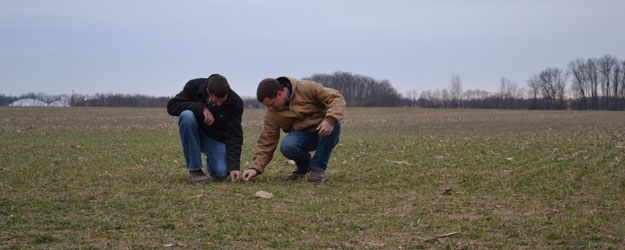 By Mark Yontz
Focus areas from OSHA inform on-farm protocols
At Cinnamon Ridge Farms near Donahue, Iowa, owners John and Joan Maxwell have a team of 12 employees, so safety is a major focus. The operation includes 4,000 acres of crops, a dairy farm and a cheese plant.

"We haven't had OSHA here, but I've talked to officials," explains John Maxwell. "We're definitely concerned about employee and visitor safety, which is why we're constantly making efforts to address safety issues in everything we do. We also find it helpful to have others come inspect our facilities to ensure our farm is safe for all."

When anticipating staffing needs in 2015, remember agriculture remains one of the country's most dangerous jobs. Roughly 240 serious lost-work-time injuries occur each year, government data show.

Oversight by the Occupational Safety and Health Administration (OSHA) remains limited amid a lack of funding, but experts advise care.

"All farms need to be conscious of safety issues and protect their workers," says Melissa O'Rourke, farm and agribusiness management specialist, Iowa State University Extension. "However, OSHA [has]
clarified it does not intend to pursue inspection of farming operations with 10 or fewer workers."

The agency has shown a higher level of concern over grain bins and ag chemicals, O'Rourke says. In some regions, large dairy operations have fallen under greater scrutiny than in the past.

In agriculture, there remains confusion about OSHA's role and reach, adds Bill Field, ag health and safety expert, Purdue University.

"If you issue 11 or more different paychecks during the year, then you've met the threshold for being a large operation, as identified by OSHA," Field explains. 

Farm operators should proactively mitigate risks by training employees annually on the proper use of equipment and by making emergency action plans available.

Providing a safe workplace is good business, says J.D. Radakovich, general manager, Hoodoo Ranch near Cody, Wyo. The operation has 14 full-time employees; more than 3,500 calves each spring; and 3,000 acres of alfalfa and grass hay. 

"Our corporate owners have a health and safety department that keeps us informed of all the things that directly affect us on the ranch, and they support us by organizing and documenting regular safety meetings," Radakovich says.

The owners also require employees and spouses to have training in First Aid and CPR. "We do this so that when an incident occurs, our people have the information and training to respond accordingly," he explains.