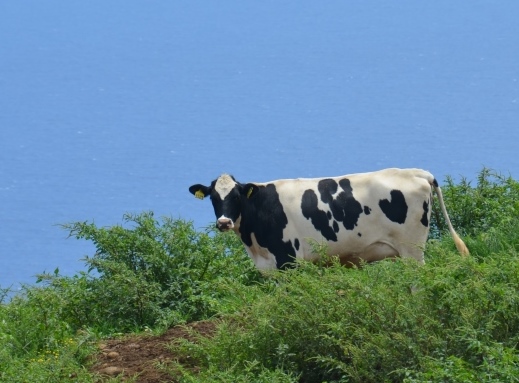 Hawaii's not just paradise, it's a land of possibilities for agriculture, particularly dairy.
Derek Whitesides and his family saw the potential the 50th state in the country had to offer with the purchase of Big Island Dairy in 2012.
Whitesides is a partner with his father, Steve, who founded Whitesides Dairy in Rupert, Idaho. The family runs a 6,400 cow dairy at home in Idaho, and in the first part of 2012 expanded the operation by acquiring a 1,000 cow dairy on the island of Hawaii. Next year Big Island Dairy should be milking close to 2,000 cows thanks to the addition of two new freestall barns and a brand new milking parlor.

Whitesides says the opportunity is there because only one processing plant and one other commercial dairy are currently located in Hawaii.
The majority of fluid milk comes from California, which has resulted in inflated milk prices at the grocery store because of transportation costs. During the first week of July milk prices were just over $6 per gallon at several Hawaiian supermarket locations.
"We're about 15 percent of the Hawaiian market right now and we'll probably double that to about 30 percent thanks to our on-farm expansion," Whitesides says.
Just 30 years ago Hawaii was self-reliant on its own dairy industry to meet 100 percent of the state's fluid milk needs. In 1985 the importation of milk began and Hawaii lost the sustainable system it had grown.
Now the state is witnessing a revival of dairy production. Big Island Dairy has been the leader with an emphasis on production that looks to double the dairy's herd size and upgrade facilities.
On the island of Kauai, a group called the Ulupono Initiative aims to begin milking 650 cows through a New Zealand-modeled, grass-based dairy at Hawaii Dairy Farms. In the future the dairy could be milking up to 2,000 cows if moved to a more confined type operation. However, there has been pushback from surrounding neighbors of Hawaii Dairy Farms.
Ulupono Initiative general partner, Kyle Datta voiced his concerns in a guest column written for The Honolulu Star-Advertiser:
"Local food operations as diverse as our grass-fed dairy on Kauai to farmers on the Big Island are being sued by their neighbors, who themselves are on what was once agricultural land.
If we allow a resort on reclassified agricultural lands on Kauai to demand buffer zones miles away from its property – affecting even Important Agricultural Lands – there are serious implications to Oahu and Maui, where development and agriculture are in closer proximity. Most of the prime agricultural lands in these counties will vanish."
Fortunately the local governments on Hawaii Island have been very supportive of agriculture producers like Big Island Dairy.
"That's been a plus for us that the political side has been on our side because they want agriculture to be sustainable in Hawaii," Whitesides says.