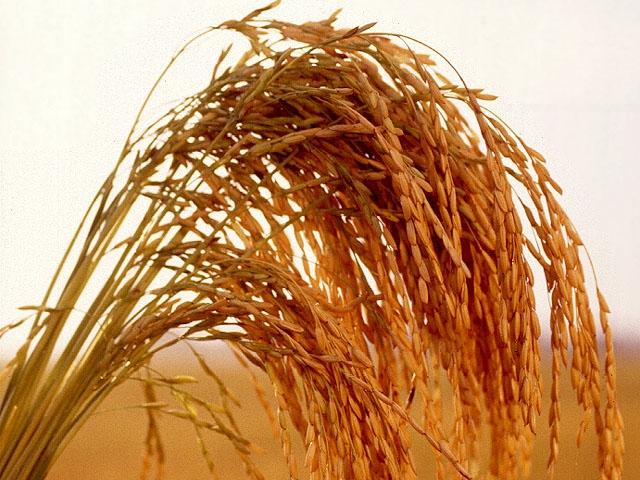 Prices for rice, a staple for half the world, fell to the lowest since 2010 in Chicago as the outlook for a jump in U.S. production and increased exports from overseas producers signal ample supplies.
Shipments from Thailand, vying with India to be the world's largest exporter, almost doubled in September, the government said today. Myanmar expects output to increase as much as 15 percent annually as it boosts yields. U.S. rough-rice production will rise to a four-year high, the Department of Agriculture said Oct. 10.
Prices have dropped 19 percent this year, heading for the biggest loss since 2001 and helping keep a lid on global food costs that the United Nations said fell for a sixth month in September. The Bloomberg Agriculture Index of seven commodities slid the most last quarter since 2008 as the USDA projects combined global output of rice, corn, soybeans and wheat will advance to a record this season.
Plunging prices are "a signal that we have plenty of rice," Dwight Roberts, president of Houston-based U.S. Rice Producers Association, said in interview at a conference in Bangkok today. "Some markets are buying hand-to-mouth."
Rough-rice futures for January delivery fell 1.4 percent to close at $12.305 for 100 pounds at 1:15 p.m. Tuesday on the Chicago Board of Trade. Earlier, prices dropped by the exchange limit of $1.10 to $11.375, the lowest for a most-active contract since September 2010.
Aggregate trading was more than double the 100-day average for the day, according to data compiled by Bloomberg.
An index of 55 food items dropped 2.6 percent month-on- month to 191.5 points, the lowest since August 2010, the United Nation's Rome-based Food & Agriculture Organization said in an online report Oct. 9.
Export Demand
U.S. inventories of rice will rise 26 percent before the 2015 harvest, according to the USDA. Prices may have to fall further to make U.S. exports attractive to foreign buyers, said Dennis DeLaughter, president of researcher and consultant VantageRM in Austin, Texas.
Iraq, the fifth-biggest importer, is tendering Oct. 30 for 90,000 metric tons of milled rice, and U.S. prices are at least 15 percent above offers expected from Thailand and Vietnam, according to DeLaughter.
"The U.S. milled-rice price is too high, and we have a big crop to sell," said DeLaughter, who has been farming and trading rice since 1977.
Rice prices in Texas range from $12 to $12.75 for 100 pounds, with mills bidding lower for new high-yielding hybrids that produce lower-quality finished product, DeLaughter said.
U.S. exports are "completely uncompetitive," Jeremy Zwinger, president and chief executive officer of The Rice Trader, a Durham, California-based researcher, said via e-mail.
Prices for 5 percent broken Thai white rice, an Asian benchmark, slumped 3.6 percent this month after jumping 8.3 percent June through September.