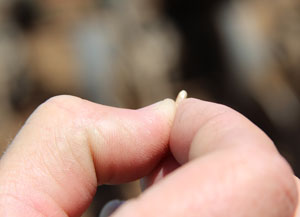 Late planting this year isn't just causing corn farmers concern—it's a nail-biting issue for rice farmers as well.
Normally, rice farmers in southeast Arkansas would have started planting March 25. This year, they didn't get started planting until April 28. Being a month behind, the potential yield loss and crop damage is already weighing on farmers' minds.
"The later you push into September, you're taking a bigger chance of a big tropical storm coming in," says Eric Stevens, a farmer in Dermott, Ark. "It will cause shatter, and most of the time, it will blow that rice flat on the ground."
Another concern is the risk of crop diseases.
"One thing is going through more diseases, the later you are in the year," says Lake Village, Ark., farmer Joe Mencer. "We may be pollinating during the hot time of the year, which leads to blanking in the rice. This could set us up for lower quality rice, which has really plagued the U.S. the last few years."
Mencer says he's already decreased his rice crop by 800 acres this year, but the late planting could force even more acres out of rice production this year.
"If it keeps raining, we'll go to flying rice in, and that doesn't work as well," he says. "And usually if you're going to mud it in, you're going to mud it out. Extra costs. It just carries on throughout the year."
Be sure to tune in to "AgDay" next week for an update on this year's rice crop.