As calendar days tick by, many crops are still standing in fields. At this point, is it worth the risk of tearing up fields to gather the grain only to spend money to dry the crops? Should you instead take the gamble of in-field loss and just leave the crops until next spring.
First, you need to evaluate where your fields stand. While some fields will be great candidates for overwintering, there are others that most certainly need to be harvested before a major snowfall.
Corn can often withstand winter conditions better than soybeans. Consider the following factors from Bayer when determining harvest priority:
Stalk strength
Ear health
Insect damage
Ear shank attachment
"A crop that has weak plant integrity now is at the greatest risk of crop losses if harvest is delayed," indicates Bayer research. "In addition to reduced yield potential, the risk for volunteer corn [next year] increases with reduced plant integrity."
The stronger the plant, the more successfully it will overwinter—as you'd expect. There's still a chance for yield loss, according to research from University of Nebraska-Lincoln.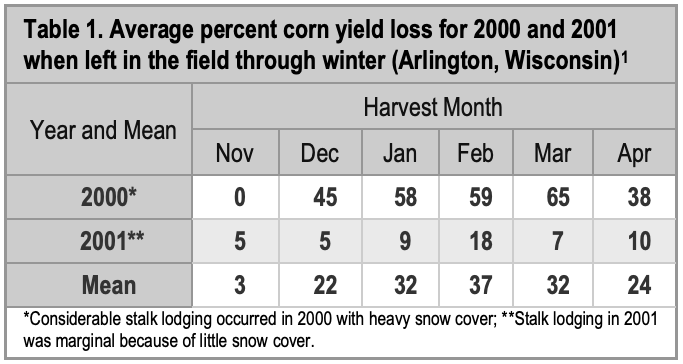 Source: University of Nebraska, Lincoln
While these yield estimates are from 2000 and 2001, nearly 20 years old, they are the most recent readily available estimates . As you can imagine, testing corn for durability and yield loss over winter isn't easy or something researchers focus on. With newer genetics, these numbers could be better, but the reality is yield loss will likely still occur to some degree when overwintering corn.
Soybeans suffer in snowy conditions. Harvest soybeans as soon as you can without getting the combine or grain cart stuck or causing significant damage to fields.
"If weather conditions don't soon improve, some producers may consider leaving the beans in the field over the winter and harvest in the spring. This is a risky practice," said Michael Staton of Michigan State University Extension in a recent news release. "Wet, heavy snows can flatten plants, making harvest very difficult [come spring]."
In addition, soybeans can develop diseases that lead to seed damage such as Phomopsis, Staton continues. Phomopsis causes black specks on the stem, which means seed damage and quality concerns are a potential issue. However, as long as pods remain intact, the risk of sprouting when it warms up in the spring is low.
Expect harvest in the spring to be slow and challenging if you must leave soybeans standing. You'll likely experience tough stems and pods, so check for yield loss at the head and behind the combine, too.
---
Read more harvest news here: