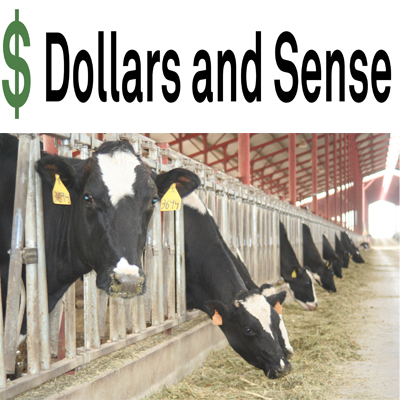 Rendell Tullar
Orford, N.H.

Tullando Farm, a 550-cow herd of registered Holsteins in the Connecticut River Valley, is moving to robotic milking.

Cow comfort has always been a top priority at Tullando Farm. Over the years we have tried to learn from cow's behavior and from visiting many farms around the world. We have taken ideas from these experiences and made our cows as comfortable as possible. While obtaining these goals, we have also tried to keep low maintenance levels.
Our new robotic milking facility is a result of this research. The barn sidewalls are 14' high with thermostatically controlled curtains, with rain sensors so the water does not affect the cows' eating area. The center of the barn is extremely high to create air flow through chimneys positioned on the ridge line.
Numerous fans spaced throughout the barn create a "wind tunnel" effect in the heat of the summer. The temperature in the barn is normally 10° or more cooler then the outside temperature during the summer months.
The barn was designed with different size stalls to accommodate younger animals in one group and larger cows in another. The stalls were built with as little obstruction as possible for lunge space.
Mattresses were used for beds using a soft foam pads and top cover, bedded with kiln dried shavings every four days. Stalls are swept numerous times throughout the day to keep beds dry and clean.
Rubber matting was installed in front of the feed alleys, keeping cows feet and legs comfortable while eating. An important part of our management is having feet trimmed at least twice a year at dry-off and mid-lactation. We also run a regular foot bath to help eliminate other foot problems. This all helps to keep cows moving comfortably.
Water tubs are placed strategically through the barn on crossovers with rubber mats, so that cows do not have to go too far to get a drink. The tubs are stainless steel dump waters that are easily cleaned.
Now with the addition of robotic milkers, cows are milked at their convenience many times a day; as a herd, we are averaging three times a day, but fresh cows are able to be milked five times.
Probably the cows' favorite part of the new set-up is the automatic back scratchers. These are brushes that turn on when bumped and will groom and massage the head, neck and back of the cow. Not only do the cows love them, but they help to remove hair and dirt from them.
Tullar's recent prices
Milk
$24.01 (3.56 bf, 2.80 prt)
Cull cows   
$90/cwt.
Springing heifers
$2,000-$2,500/head
Cornmeal
$185/ton
Beet pulp
$245/ton