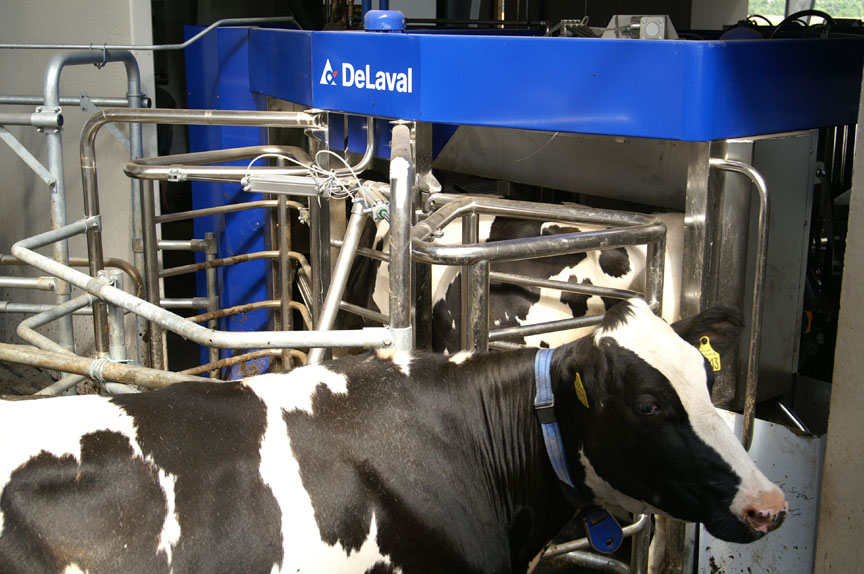 Evolving research and first-hand dairy experience shed light on this advanced technology's progress.
Dairy producers always fill the seats at World Dairy Expo's Virtual Farms Tours, but nothing draws a bigger crowd than presentations that feature robotic milking.
Two back-to-back, room-packed sessions last week not only illustrated that interest but revealed new facts and first-hand experience with robotic milking on a Wisconsin dairy.
While an estimated 25,000-30,000 robotic milking systems (RMS) operate worldwide, the U.S. counts about 500 – and the number is growing, said Marcia Endres, professor and Extension Dairy Specialist with the University of Minnesota.
An RMS, of course, relies on high-tech machinery – not humans – to milk cows. Most RMS in the world today are single-box systems, with a robotic arm serving one or two to five boxes. An RMS can be a free-flow traffic system, which allows cows to operate on their own instincts, enticing them with the tasty treat they learn to find in the milking box. The other main RMS style is a guided-flow system that takes a "milk-first, feed-second" approach by pre-selecting cows and sending them to the RMS through a series of selection gates.
For nearly two years, Endres and University of Minnesota colleague Jim Salfer have been conducting a study with 52 RMS farms in Minnesota and Wisconsin. What the two researchers have found is that dairy producers turn to RMS for these reasons:
• Improved quality of life, especially more flexibility with schedules;
• More efficient labor management, which results from needing fewer humans to milk cows and reduced labor costs;
• Less strain on human health, as milkers move away from the repetitive movements that cause back, knee, wrist and hand problems;
• Upgraded technology that provides a wealth of information about each cow at each milking;
• Consistency from machines over the variability of human labor.
One Minnesota dairy in the Endres/Salfer study installed a robotic system in 2012 to milk its 300 cows. The dairy's labor costs dropped from $2.22 per cwt. in the 2009-11 period before it had installed robotic milking, to $1.60 per cwt. in 2013. It also reduced its number of employees from six to three.
The average milking time on an RMS is 5.5 minutes, noted Endres.
She pointed out these important RMS goals:
• More than 2.8 milkings per cow per day;
• Less than five failed milking per robot per day;
• More than 1.5 hours of free time on the robot per day;
• Keeping "fetch" cows at 5-10 cows or less per robot per day (Fetch cows are those that don't naturally head into the RMS);
• Production at more than 5,000 lb. milk per robot per day. Achieving 4,000 lb. is OK, and 4,500 lb. is good, but 5,000 lb. is excellent, Endres said.
Feeding the cows at appropriate levels is also important. Enticing cows to visit the RMS regularly and frequently is accomplished by providing a partial mixed ration (PMR) at the bunk and offering additional concentrate at the milking station.
Comparing feed costs with robot vs. conventional milking, Endres said, "It's cheaper to feed the later-lactation, lower-producing cows, and more expensive to feed early-lactation, higher-producing cows in a robot. But the benefits with RMS are that you won't over-condition cows because you are feeding them for what they need, and you're rewarding the high cows with the energy they need.
"You'll have more cows in a positive energy balance and gaining weight post-calving," she added.
At the Virtual Farm Tour that followed Endres' presentation, Lepples Ridge-View Farm of Beaver Dam, Wis., shared its positive experience with RMS. Owner Joel Lepple told the audience that since his 300-Holstein operation installed an RMS three years ago, he and his family have seen all the benefits that robotic milking promises – plus calmer cows and increased milk production. The Lepples installed two Lely Astronaut robotic milking systems as well as a robotic feed pusher and two mechanical rotating cow brushes.
The Lepples average 2.83 milkings per day. Pre-RMS, the Lepples' herd produced 65 lb. of milk. Today, with robotic milking, the dairy's output has climbed to 78-80 lb. of milk per cow per day.
Son Brent Lepple, joining his father on the Virtual Farm Tour, said the robotic technology – from milking system to automatic feed pusher – has been "a real benefit." He urged producers not to shy away from adopting the technology. "Accept it," he said. "It makes life easier."
Robotic milking systems can work, Endres said. "Most current users are satisfied with their decision" to install RMS, she added. "Dairies can expand without hiring more labor, and producers can have a more flexible schedule," she said.
An RMS requires excellent management, said Endres, whose session was sponsored by GEA Technologies. She and her team have developed a spread sheet to analyze your potential robotic milking economics. Click here to see how an RMS might work for you.