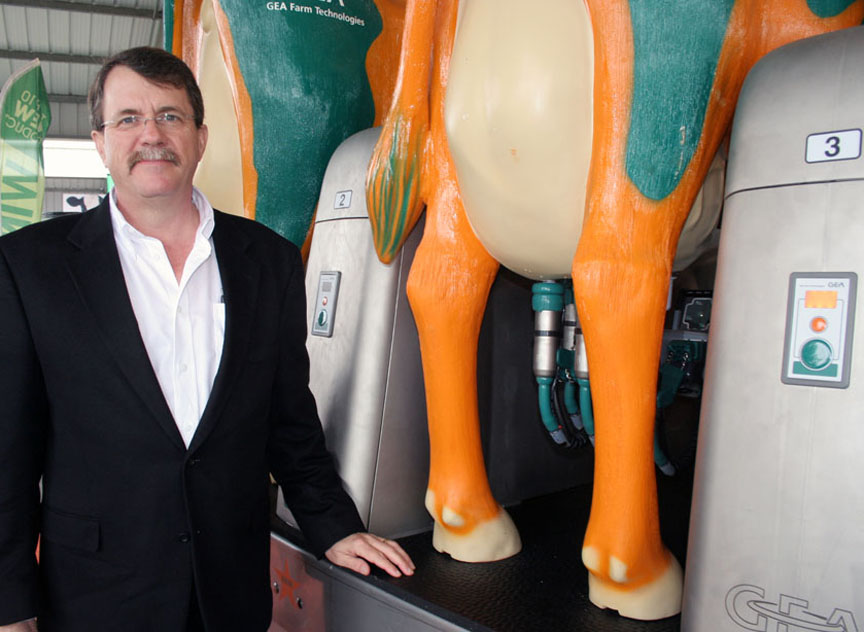 The new, high-tech system can milk herds of up to 4,500 cows – and all it takes is one human.
If you're a large-herd dairy owner who thought robotic milking would never work for your operation, you're exactly who GEA Farm Technologies had in mind when it created its new DairyProQ.
The German-based company introduced its first large-size, fully automated robotic rotary milking parlor in North America earlier this month at California's World Ag Expo, where it earned a Top 10 New Products Award for 2015. 
"This is the large-farm solution," said Steve Pretz, vice president of large project sales for GEA Farm Technologies. "It's the next step in automated milking."
Pretz was onsite at February's farm and equipment show in Tulare to explain the robotic rotary milking system to hundreds of curious dairy producers who stopped by GEA's working display.
The new DairyProQ targets U.S. dairies ranging in size from 600 to 3,200 cows milking three times a day, or 4,500 cows at twice-daily milking. Completely automated, it can milk from 28 to 80 cows at a time with only one human on hand to monitor the process.
"The goal is to have the same productivity as human labor," Pretz said.
And, of course, a robotic rotary reduces the need for additional labor. The global dairy milking manufacturer says its DairyProQ allows producers to increase their herd size without adding new employees. Workers once stationed on regular milking shifts can now focus on other herd management tasks.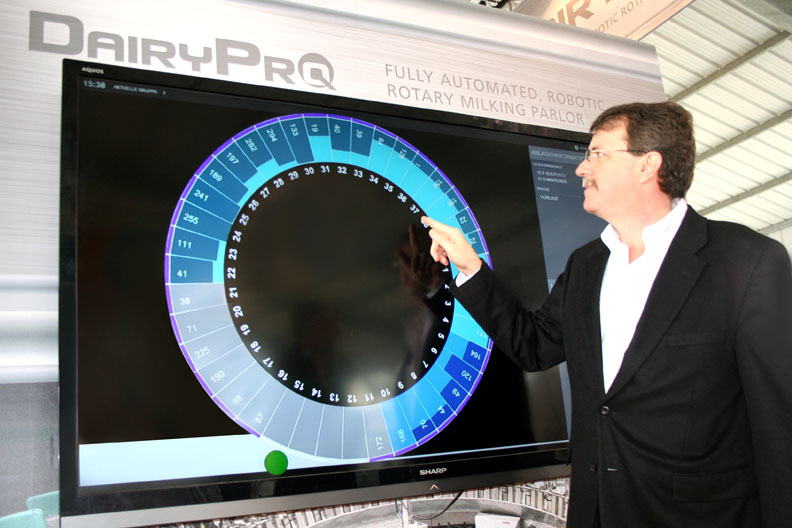 Pointing to a flat-screen display of a robotic rotary milking carousel, GEA Farm Technologies' Steve Pretz explains how the high-tech system can be monitored.
The robotic carousel runs on a 10-minute cycle. Executing DairyProQ are the high-tech modules – one for each cow stall -- that sit on the exterior of the rotary. Once the cow steps into her stall on the revolving carousel, the control panel on each module displays her milking status and shows the parlor operator if attention is needed. The modules instruct robotic arms when, where and how to do the milking. Each automatically directs the process: teat-cup attachment, cleaning, stimulation, pre-milking, milking and dipping.
If a module needs servicing, it can be quickly removed from the stainless-steel cabinets that house them and exchanged for a new one during operation to keep the milking session on time, Pretz pointed out. Service on the module is done is the adjoining equipment room, keeping the milking process on schedule.
"This is the kind of equipment the college graduate or higher-level employee wants to work on," said Pretz.
Among the benefits of DairyProQ, GEA says:
Fully automated, consistent milking process
Automatic detach and backflush
Flexibility for special-needs cows
Labor savings
Convenient, easy-to-read LED signals
Smooth, rounded stall design
Easy service with no downtime
The cost of the DairyProQ is 3.5 to 4 times that of a conventional rotary, according to Pretz. "It won't cash-flow if you only plan on milking two hours in the morning and two hours in the evening," he said.  "You need to use it 24 hours a day."
Energy costs are slightly more because of DairyProQ's use of compressed air.
Pretz hopes to see it gain acceptance in California, where herds of 1,000-plus cows are typical. Additionally, he sees robotic rotary parlors as a way to bring in new labor-saving technology in the Golden State, where remodeling, not building a new dairy, is more likely these days. A tough business climate and a stringent permitting process have resulted in no new dairy construction in California over the past few years.
GEA Farm Technologies hopes to have two DairyProQ units operating in North America by the end of the year – one in the U.S. and one in Canada. It already has three up and running on German dairies ranging in size from 300 to 1,200 cows.
Watch DairyProQ in action in this video from GEA Farm Technologies.