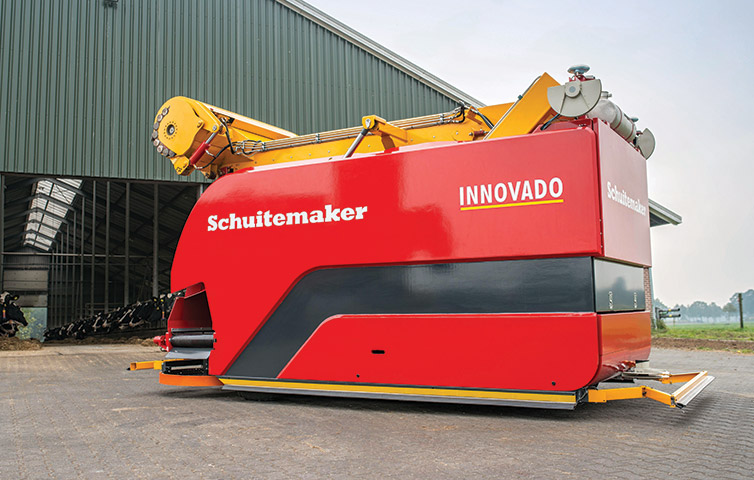 New units mix and deliver feed hands free
By Wilfried Wesselink
Bonus Content
More on European robotic TMR mixers.
Editor's note: Wilfried Wesselink is Dairy Today's European correspondent. He attended the EuroTier 2014 Farm Show last November in Hanover, Germany, where more than 150,000 visitors viewed agricultural exhibits covering some 25 acres.
Encouraged by the experience with milking robots and autonomous robots both in front of and behind the feed line, European manufacturers of milking and feeding equipment are becoming increasingly involved in automated feeding.
The growing size of herds, higher workloads and high labor costs are all fueling the drive to more feeding automation. An estimated 1,000 automated feeding systems (AFS) running on rail systems are already in use in Europe, primarily in Scandinavia.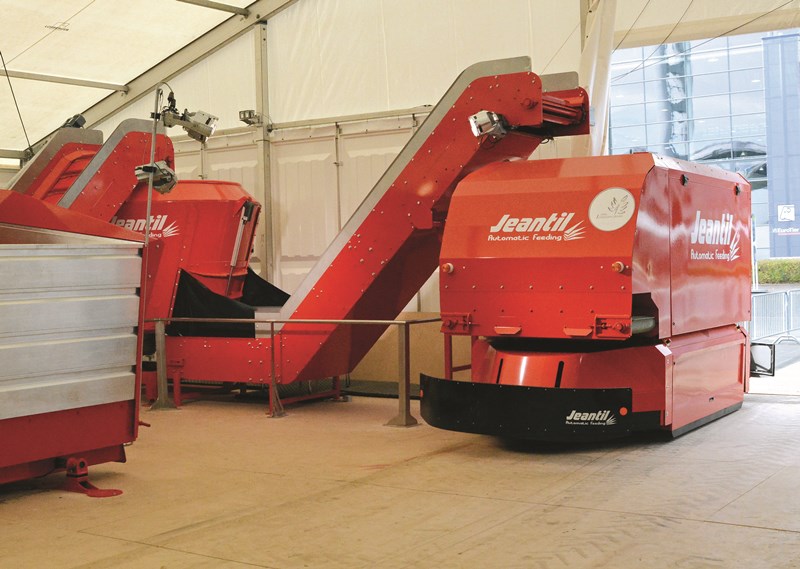 The Jeantil feeding system includes a preparation of forages and concentrates, a mixing unit and the distribution of rations via the self-propelled robotic wagon.
Now, with evolving robotic technology and telemetry, larger scale farms are becoming marketing targets. While some systems are capable of feeding up to 1,000 cows, the current fully-automatic feeding systems are primarily intended for medium-sized farms with 150 to 200 cows. A system for about 80 to 220 cows requires an investment of $175,000 to $250,000.
That might seem pricey, but the fully- automated, mobile TMR mixers eliminate the need for a tractor to mix and deliver the feed. According to manufacturers, the energy costs of an AFS, especially electrical systems, are significantly lower than conventional feed mixers.
Some devices also push feed up into place along mangers, eliminating labor that would be needed to do that several times per day.
The cattle can also be fed more often, which allows fresh feed to be in front of cows more frequently with less feed sorting and waste. While farmers with a feed mixer wagon often only mix and batch one ration, it is easier with automatic feeding systems to fine-tune a ration to the milk targets of individual groups of animals.
The automatic feeding systems shown at EuroTier 2014 ths past November were as varied and diverse as the market.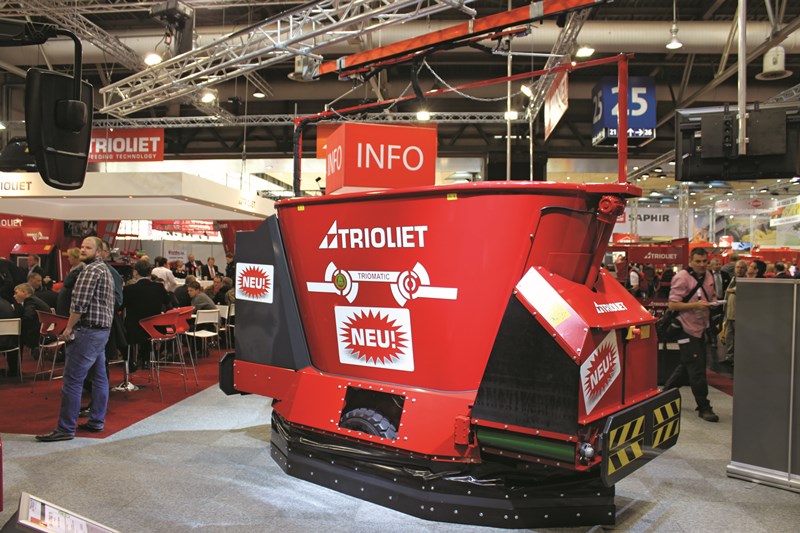 The Trioliet feeding robot rides along the ground but still uses electricity from an overhead track, much like a cable car.
Some systems remove and load feed out of the bunker, others must be actively filled, and some have a feed kitchen where the components each have their own feed bay. Distributing feed to cattle can be organized via a feed belt, a vehicle or a mixer wagon guided by a rail (either hanging on a rail or riding on the ground) or an autonomous driving feeder or mixer wagon.
Six years after showing its first prototype, Dutch machinery manufacturer Schuitemaker finally presented the first commercial version of its self-propelled Innovado feeding robot. It loads itself from a conventional bunker silo and drives autonomously, using sensors in the floor, between the bunker and the barn.
The French company Jeantil also showed an autonomous, moving, feed mixer wagon. And Trioliet, based in the Netherlands, exhibited an alternative to the hanging (on a rail) feeding robot. This new version travels on the ground but still uses electricity from an overhead track.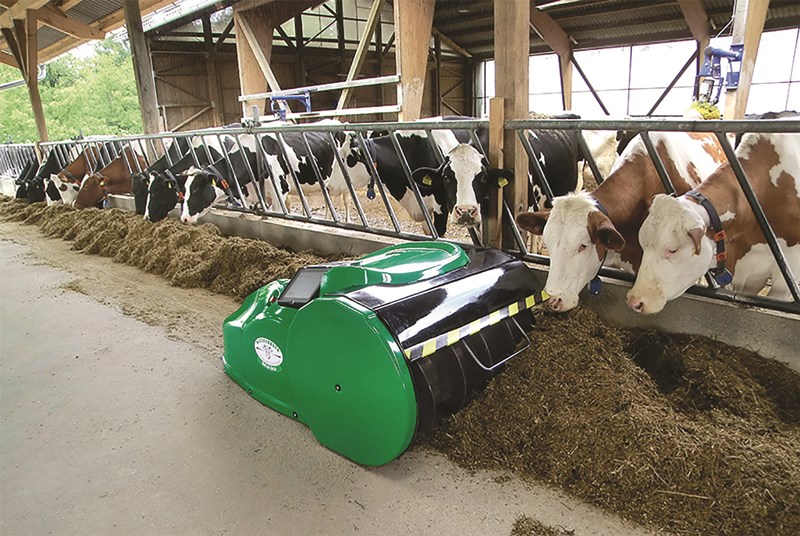 Rather than a vertically rotating brush, the Butler Gold robot uses a screw to push up feed.
At first sight, Butler Gold from the Austrian Wasserbauer company distinguishes itself from other feed pushing robots with its auger screw. It finds its way with the assistance of small, 4 mm magnets that are imbedded in the floor every 6'. The route is programmed once, in advance, with the aid of the control unit.
By pressing a button, Butler Gold will drive out of the barn to allow access to the feed
alley for fresh feed delivery. It can also go to another barn to continue working there.