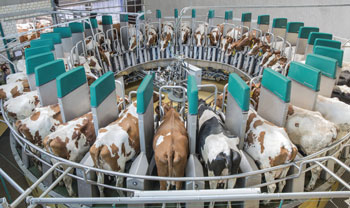 Construction of largest rotary robot begins
Officials from GEA Farm Technologies and Bayland Buildings Inc., broke ground in mid-August on a 72-stall all-robotic rotary parlor on Nick Mlsna's farm near Cashton, Wis., an hour east of La Crosse.

It will be the largest rotary robotic milking system in the world and a first for North America, says Matt Daley, GEA's CEO. Currently, GEA robotic rotaries are operating in Germany in 40 to 60-cow sizes.  

The installation represents a significant step forward in farm size and technology says Mlsna, who dairies in partnership with his parents, Dennis and Barb, his wife, LeAnne, and their four children. 

"The current double-12 parlor (built in the 1990s), is pressured with cow flow, and we struggle to stay on schedule milking 900 cows three times a day," he says.

The Mlsnas hope to retain all 21 employees after the expansion, and milk more than twice as many cows. The expansion will take their herd to 2,000 cows with the addition of the parlor and a 330'x520' cross-ventilated barn. 

The new parlor will have a robotic arm at each stall, which will disinfect udders, prep teats, attach units, milk, post dip and sanitize the units after each milking. Only one person is needed in the parlor to monitor cow flow and milkout, says Larry Ferguson of Advanced Dairy Solutions, the Mlsna's GEA dealer. Most 72-stall rotaries require four or five milkers. 

Neither Mlsna nor Daley would comment on how much the robotic system adds to new parlor costs. "The cost will be substantially less per stall than the box system robots currently on the market," Daley says. 

Those units can cost up to $200,000 each and milk 60 cows per day. With eight-minute rotations and 3X milking, the rotary robot could milk a similar number of cows. 

Plus, robots are more consistent in udder prep than human milkers. Abnormal milk detection through color screening and in-line milk conductivity testing should improve.

Construction crews hope to have the building enclosed before snowfall and milking started by March 2015.
---