On display at Ag Connect Expo, a RoGator applicator was mounted to display its suspension and  GatorTrak, AGCO's 4-wheel steering system. GatorTrak minimizes damage to crops and beds by leaving fewer tracks and reducing track deviation compared to conventional 2-wheel steering systems, resulting in higher yield and increased revenue.
But another, perhaps more subtle takeaway of the model year 2013 machines was the built-in safety considerations.
As operations put more hours on the machines, including more and longer days in the field, the machines have been enhanced to include small and big changes.
RoGators continue to feature a cab exclusively designed for application equipment. The six-post design maximizes visibility for application. Also, the folded boom design keeps a wider field of view during transport. For additional visibility, the RoGator Management Center can incorporate two video streams from mounted cameras. There's also the option for electric mirrors.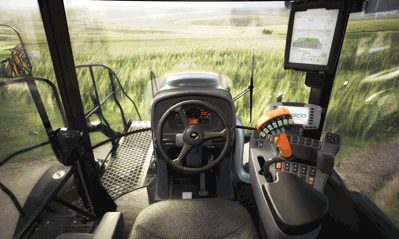 For daily maintenance points, the engineers built the machine so a ladder didn't need to be used to reach or access those areas.
Also, the access to the cab features a wider entry, a one-level walking platform and slatted walking platform design for better traction. And the walkway has a toe-kick plate to keep operators safe.
The clean out capability of the machine, including Air Boom clean out and the air aspirators, improves the safety in application, which is becoming a bigger issue with more use of tank mixes.