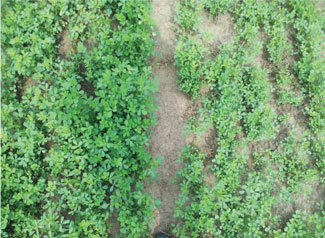 Aphanomyces root rot hampers nitrogen uptake and lower yields
Aphanomyces (aph) root rot is a slow death. It initially causes buckshot yield losses in alfalfa, but the persistent drain mounts to major economic losses over time. When a producer plants a stand and expects it to last four years, but instead is forced to remove it after two years, the switch is costly.

The bull's-eye for aph root rot is the north-central U.S. and areas with medium to heavy soils, but it's widespread across the country. The disease weakens seedlings and causes root pruning in established stands, hindering nutrient and water uptake.

In its early stages, aph root rot can cause a thin stand, but if growers don't recognize the yellowing and stunting symptoms, they might not even realize the disease is present. 

"It's not necessarily getting worse, we just think we're truly beginning to recognize something that was already there," says Dan Undersander, Extension and research forage agronomist, University of Wisconsin. 
The symptomatology looks like nitrogen deficiency, and it basically is. The roots are cut off as nodulation and nitrogen fixation, as well as general mineral uptake, are reduced. In the seedling stage, spots often break out in the low parts of fields. As established stands break dormancy, yellow oval spots appear and sometimes get bigger as plants die off and weeds invade.

The primary symptom, especially on seedlings, is a chlorotic purpling that many growers initially associate with nitrogen or sulfur deficiency. Aph root rot is sometimes attributed to a lack of sunlight and wet conditions.  

"Yield reductions due to aph root rot are all over the place. If a grower has root rot problems after establishment, he'll lose plants and therefore lose stems," describes Jeremy Hayward, brand manager for W-L Research. "Once the stand is established, we pay more attention to stem count than plant count because stem count is correlated tighter with yield. Plants lose stems and lose yield. With different races of aphanomyces and different geographies, the differences exist."
If aphanomyces is suspected, run a soil test for growout. Apply 10 lb. to 15 lb. of sulfate, and if plants green up within a week of a rain, the rebound indicates the stunting and yellowing was due to sulfur deficiency, Undersander says. If they don't green up, aphanomyces is likely present. 

"If it's aph root rot, it will be there for the rest of the life of the stand. If the spread in a field isn't too bad, a farmer might keep the field a little longer. However, if he has a lot of spots over the land area, he might want to turn it over even if it's not an old stand," Undersander explains.

Alfalfa varieties are heterogenous so 100% resistance will never be achieved, but Hayward advocates farmers use the best genetics of race-1and race-2 resistant alfalfa varieties to prevent aphanomyces. Similar to corn and soybeans, seed treatment in alfalfa is also vital. 

When will race-3 alfalfa varieties arrive? "I hope race-3 resistant varieties are available within the next few years. We want to meet some specific parameters—greater than 50% resistance—in any variety we release," Hayward says. "It's probably not something we'll see in 2016, but very soon afterward."