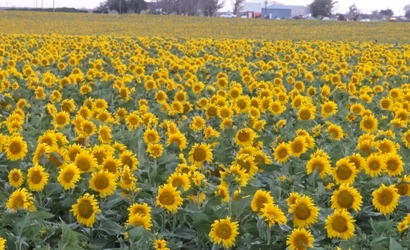 Corn takes a back seat to other crops
High corn prices have been a magnet for acres the past few years. From 2009 to 2013, U.S. farmers increased corn acres by 10%, with more than 95 million acres planted to the crop in 2013. But, this year looks like it might be a blip on the steady increase in corn acres. 

In its annual Prospective Plantings reports, USDA released numbers detailing less corn and more soybeans. USDA expects 91.7 million acres of corn (down 4% from 2013), 81.5 million acres of soybeans (up 6% from 2013), 55.8 million acres of all wheat (down 1% from 2013) and 11.1 million acres of cotton (up 7% from 2013).

A shift to soybeans is expected, especially in the states on the fringe of the Corn Belt. "For farmers in states that average 140 bu.-per-acre corn, $4 to $5 corn doesn't look great, especially considering their variable expenses are nearly the same as states that average 180 bu.-per-acre corn," explains Jerry Gulke, president of The Gulke Group. 

This past year's wet harvest, combined with a lot of unpriced grain in storage, is also making corn less attractive this year. "The love affair with corn when it was $7 isn't so amorous right now," Gulke says. "That made the farmers who could switch want to plant something else."

With less than 92 million acres of corn expected, strong yields will be critical to meet demand. At this point, Bob Utterback, Farm Journal Economist, says the national average yield is expected to be higher than the past few years. "We lost a lot of the acres in fringe states that tend to be lower-yielding areas," Utterback says. 

Outlier options. Farmers in the Delta, Dakotas and other states outside the heart of the Midwest can be more flexible in their crop choices. 

For instance, North Dakota farmers are predicted to decrease corn acres by 900,000 million acres, the largest corn acre decline of any state. As a result, they are expected to plant an additional 1 million soybean acres this year, the highest soybean acre increase.

Wheat is also gaining ground in North Dakota. All wheat acres (winter, spring and durum) will be around 1.5 million acres higher than 2013. This came as no surprise to Joel Ransom, agronomist with North Dakota State University Extension. "Wheat acres are up, as we had a lot of prevent plant last year and those acres usually are planted to wheat," he says. 

Southern and Delta states are also showing a shift away from corn to soybeans and other traditional crops for the area. Rice plantings are expected to total 2.88 million acres, up 16% from 2013. Peanut acres will reach 1.38 million acres, up 29% from the previous year.

For some farmers, this year is the opportunity to move back to a more traditional crop rotation. "Many farmers are committed to crop rotation," says Chad Lee, grain crops agronomist, University of Kentucky Extension. "For 2014, I think most producers are willing to risk lower returns for a single year with the goals of maintaining good soil quality and managing familiar logistics."

'I states' steady. A full one-third of the nation's corn acreage was planted in just three states in 2013, the so-called "I states." Therefore, crop mixes for producers in Iowa, Illinois and Indiana have U.S. and global implications.

For 2014, Iowa farmers intend to plant 14 million acres, 400,000 more acres than this past year. Corn planting intentions are down 100,000 acres in Illinois and 200,000 acres in Indiana. Soybean acres are expected to increase by 50,000 in Illinois and 300,000 in both Indiana and Iowa. 

Iowa producers tend to favor corn, says Steve Johnson, farm management specialist at Iowa State University. "Iowa was a corn-deficit state in 2013, importing corn from Illinois, Nebraska and Minnesota to fuel ethanol and feed demand," he says. "Plus cash rents above $350 per acre favor corn."

The Prospective Plantings reports are based on farmer surveys in early March. While there is still time, Utterback doesn't believe many farmers will make a crop switch. "I don't think guys will shift their acres much unless Mother Nature throws a curveball," he says.