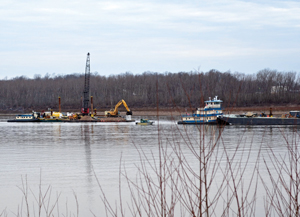 River levels continue to cause havoc for shippers
Despite several warning cries from the river industry, commerce along the Mississippi River remains afloat. A combination of constant dredging along the river and removing rock pinnacles near Thebes, Ill., has done the trick and kept the river open.
"We're going to be able to guarantee a 9' depth all the way down to a negative 7' at St. Louis," says Michael Petersen, U.S. Army Corps of Engineers spokesperson.

The rock removal was completed ahead of schedule. This has changed the tone of the industry, now applauding the Corps' work.

"Thank goodness the Corps got in and got those pinnacles removed by working with their contractors," says Marty Hettel, of AEP River Operations. "I can't say enough about the great job they did."
Risks remain. While the vital shipping artery remains open to commerce, the water levels are still at a critical stage. At the end of January, water levels were at -3.6. To put it into perspective, that's 50' lower than water levels during the flood of 1993. This is forcing barge operators to ship lighter loads.

Hettel says AEP is only operating at 45% capacity. In January, it moved 380,000 tons, not the 600,000 tons the company could have moved with higher water levels.

"The river level has dramatically increased the cost of transportation for the industry," says Rick Calhoun, president of Cargo Carriers, Inc., a division of Cargill. "There was a period of time where the lack of certainty whether the river would be open created a situation where the export industry was a little reluctant to put on deferred sales to customers."

Other challenges continue to surface as river levels fluctuate. The frigid blast that made its way across much of the upper Midwest can also create flow issues. The Corps, however, says it is prepared.

"We have as much water as we can hold in our pools upstream behind our locks and dams," Petersen says. "So, in case, for example, we have an ice bite where there's a hard freeze upstream, we'll be able to buffer that with water behind those dams."

Couple that with more rock pinnacles that could interfere with the required 9' channel depth, and more work still needs to be done.

"Now, Grand Tower, Ill., is becoming an issue," Hettel says. "It's the second place where we have these rock pinnacles. In the very near future we hope the Corps can remove those pinnacles, similar to what they did at Thebes to keep the river open.

Hettel is confident the Corps will get the work done, even if funding is an issue, based on its current track record.

As the spring draws closer, farmers are questioning if fertilizer shipments will arrive in time, and at what cost.

"Some of these fertilizer barges have had to be loaded to a lighter level to make sure that they can get through," Calhoun says.

Lighter loads, however, mean longer transit times, and ultimately, higher costs for everyone.
The Corps is mandated to release water from the Missouri River each spring. This means water levels will improve along the Mississippi, April through December. If the drought persists, however, the river industry could end up in the same boat next year.
For continuing coverage of the Mississippi River situation, go to
www.FarmJournal.com/mississippi_river
You can e-mail Tyne Morgan at [email protected].