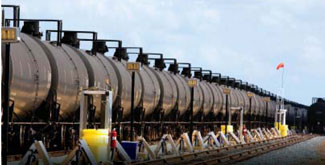 By Rachel Cernansky
Ag infrastructure faces impasse over
Along the upper reaches of the Corn Belt, producers are expressing post-harvest gratitude for a bountiful crop in spite of grim prices. Yet there is underlying frustration among Midwest farmers over a transportation system that struggles to keep pace with world demand for U.S. crops and livestock. 

"We have to have trucks that can go 100 to 125 miles away from the farm and try to find a market that needs the grain," explains Bart Schott, a producer who grows 4,000 acres of corn, soybeans, wheat and barley near Kulm, N.D., describing a lack of railroad cars and engines. Producers in his area can be forced to truck their grain up to 340 miles away to Minneapolis to turn a small profit.
Shuttle-loaders expedite grain shipments yet cost $25 million and saturate the market, limiting future growth.
Railroads Battle Demand. For those who hold onto grain, basis levels have been pushed to a pittance. Some call it the new normal. In Schott's area, fall basis ranges from 80 cents to $1 for corn and stands at about 95¢ for soybeans. Railroad engines and cars are in high demand because of the oil boom in North Dakota, so elevators have filled with grain as they wait to ship it. 

"This is going to hug us for a couple of years yet," Schott predicts. 

Although the dramatic economics of the rail strain has captured farmers' attention in the past two years, experts say transportation challenges extend to locks, dams, ports and roadways. Investments are being made in the billions of dollars, but infrastructure advocates—many of them producers—say for the near term, it might be too little too late.
During the winter of 2013/14, a spike in oil shipments out of the Bakken oil fields in North Dakota coincided with harsh weather conditions, exacerbating the problem of limited rail cars and engines.

Today, the back-and-forth between oil and agriculture persists. Many producers expect low basis to linger for years. In 2014, insufficient rail service cost producers a minimum of $20,000 up to $50,000 or more, estimates Mike Steenhoek, executive director, Soy Transportation Coalition.

Although the rail industry is investing to expand capacity, it's important to realize "the industry can't expand overnight," Steenhoek says.
"They say they're doing what they can, but when you stand by the tracks and see all the trains go by, I mean, it's oil, oil, oil, oil."
 –Bill Zurn, soybean, corn and sugar beet producer, Callaway, Minn.
Action on Roads. Fifteen percent of rural roads are rated in poor condition, according to TRIP, a nonprofit that researches surface transportation in the U.S. Meanwhile, 12% of the nation's rural bridges are structurally deficient.

"At some point, you have to restrict them to lower-weight vehicles, which obviously makes it more challenging to move goods," notes Rocky Moretti, TRIP's director of policy and research.

The Highway Trust Fund is under stress because gasoline and diesel fuel taxes are no longer sufficient to support Congressionally-authorized programs. 

Yet states have power to enact change. Moretti points to Texas, which has focused on cost-effective safety improvements to rural roads. 

"They basically catalogued around 1,000 miles of rural roads, looked at what could be done in terms of cost-effective improvements and immediately saw a drop in fatalities on those roads," he says.
"All our soybeans head west on the railroad to the Pacific Northwest and then into southeast Asia. It's a very important export market, and it's a huge priority." 
–Mike Appert, soybean and corn producer, Hazelton, N.D.
The Path Ahead. The challenge facing American farmers is one of modernization. Back in North Dakota, producer Schott says getting crops to market this fall wasn't as difficult as he expected. Yet overarching challenges associated with transportation will linger into 2015 and beyond, even as he and other producers lobby legislators for change. "The main thing is not to get too frustrated," Schott advises. "We're seeing older farmers and younger ones just getting really frustrated with the prices. Some just don't have any options."
---
What It Means To Me
Limited railroad resources are tightening profit margins for producers. 
On-farm changes include return to conventional seeds, planting crops that can be shipped off-rail and added storage capacity.
Transit issues are likely to persist for years, even with multi-billion-dollar investments.
 Delays threaten long-term U.S. demand base as crop buyers seek competitive, timely delivery.
Possible fixes include public-private partnerships, tax incentives and regulation.
---
Nation's Waterways Are In Dire Straits
Navigable inland waterways are the most cost-effective means of transporting U.S. grain long distances. Eighty-nine percent of the soybeans exported from the Mississippi Gulf region, which accounts for 58% of total U.S. soybean exports, arrive there on inland waterways, according to the Soy Transportation Coalition (STC).

Yet the locks and dams that keep barges moving are literally in dire straits. 

"The concrete is crumbling; the gates are leaky," says Mike Steenhoek, STC executive director. "For areas relying on the inland waterway system, looking at the condition of those locks and dams, it really isn't a matter of if we have a failure; it's a matter of when."

Such a failure could be devastating, particularly at harvest. Steenhoek points to Lock 26, located north of St. Louis on the Mississippi River. "The main 1,200-ft.-long chamber has been out this year," he explains. "We've had to rely on an auxiliary 600-ft. chamber." 

The Water Resources Reform Development Act, signed into law in June, is expected to improve funding for the nation's ports. The legislation should help the U.S. Army Corps of Engineers execute projects more cost-effectively and quickly, according to Waterways Council, Inc. STC also seeks public-private partnerships.   
---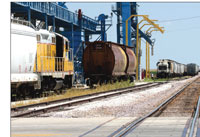 Producers Work Toward A "New Normal"
Minnesota corn and soybean producer Lance Peterson is appreciative of railroad industry investments that could top $20 billion over the next five years. At the same time, he's a realist.

"Even with all the investments, we are told to expect a new normal in terms of rail efficiency," says Peterson, who farms near Fergus Falls. "I guess this means that agriculture is now part of a much more crowded rail network."        

Consequently, Peterson uses a mix of hedge-to-arrive and straight-out hedge contracts to forward-sell grain. "If I see an opportunity to sell corn in March at 25¢ or 30¢ under futures, I probably better take advantage of that because hoping for a better number might not be the wisest choice."
---
How Infrastructure Stacks Up