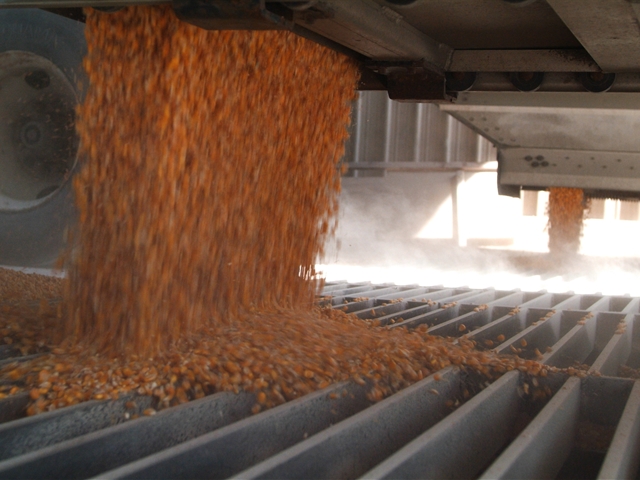 The latest Rural Mainstreet Index (RMI) is revealing a drop in farmers' financial conditions, sinking to the lowest level since December 2016. The index remained below growth neutral, a sign that shows financial pressure continues to prevail on farms and ranches.
"We survey a 10-state region stretching from Colorado and Wyoming in the West, up to North Dakota and Minnesota in the North, over to Illinois in the east and down to Missouri in the South, said Ernie Goss, author of the RMI, which is a survey of ag bankers in those regions.
Despite the recent drop in livestock prices, a strong start to 2017 produced better than expected financial conditions. That means livestock producers are currently faring better than their row crop farming counterparts.
"You look at wheat, you look at soybeans, look at corn—the primary grains for the farmers in our survey region are not good," he said. "The drought is compounding that depending on what part of the region the survey participants are in."
The latest drought monitor is showing improvements in North Dakota, with extreme drought improving 15 points in a week. The relief is coming too late for drought stricken row crops.
"We've seen drought fail to increase ag commodity prices," said Goss. "You expect a drought limiting supply to push up prices-- it has not, because of the global supply that we are seeing out there.
Yields Grow, Carryover Remains Large
Goss says the hefty global supply is also holding back rallies.
"A lot of farmers have grain in the bins," said Goss. "If prices go up, you get some unloading that sort of limits any growth until we get rid of that old crop corn."
In additional to old crop, USDA's latest estimates still pegs a large 2017 U.S. corn crop, with estimates pointing to yields hitting the third highest ever at 169.9 bushels per acre. As U.S. farmers continue to strive to out yield the price, Goss explains how the cobweb theory in economics comes into play.
"You tend to over produce when prices are high," said Goss. "You sort of get in this cycle until you finally get some equilibrium."
Goss says finding that equilibrium in agriculture is taking too long, with corn acres not falling as much as needed this past year, which means possibly larger corn supplies heading into 2018.
If the dollar can see continued weakness, and exports push ahead, Goss thinks it could overcome the big yields.
"We need to see a cheaper dollar," said Goss. "The dollar has cheapened - that makes our prices abroad much more competitive, and this is what we saw beginning in 2009, a lot of that increase in the price of a bushel corn up to $7.50 a bushel. A lot of that was a cheap dollar boosted by the Federal Reserve cheapening the dollar."
However, Goss thinks the recipe of a cheaper dollar and increased trade won't show up in improved commodity prices near-term.
"We're just not looking at any significant increases in prices that I thought a month ago, two months ago," said Goss. "I was more optimistic about prices then. So, if we don't see prices in the near future -- for five months or so-- you know, it seems like this money pain in farm country countries only going to get worse."
Farm Loans
That financial pain is already showing up, with the latest RMI also showing 51.2 percent of bank CEOs reported restructuring farm loans. 18.6 percent of that same group also indicated they had to increase collateral requirements.
"There are lots of farmers out there that are below breakeven, particularly if you're cash renting," said Goss. "Cash rents have not come down nearly as much as farm land prices."
The silver lining in this is loan defaults. The RMI shows farm loan defaults increased only 2.1 percent this past year.
"The surprising factor in this is that delinquencies are up, bankruptcies foreclosures are up, but not what you'd expect," said Goss. "We've had four straight years of declining farm income."
RMI also shows farm loan delinquencies rose 4.1 percent, a number Goss isn't optimistic will improve soon.
"I don't think the bottom is in, in terms of for example foreclosures, delinquencies and bankruptcies," said Goss. "We've got a bottom there ahead of us, and while that doesn't make you feel good, it's just the negatives are less negative."
"For grain farmers, we won't know the shortfalls until after harvest, depending on yield and prices," said Jeff Gerhart, President of the Bank of Newman Grove, located in Newman Grove, Neb. "For those farmers who have a shortfall, we will work with theme in order to help their operations make it through rough times."
Goss Grades Farm Economy
Overall, Goss gives the farm economy a C-grade, with the expectations of that grade bumping to a B by the first quarter of 2018.
"The bad news is liquidity positions," said Goss. "The loans are increasing, the delinquencies are increasing, the foreclosures are increasing, but not at a fast clip. There we're from C to a C-, but not like we were in the 1980s."
Declining Farmland Values
The RMI also keeps track of land values, showing average farmland prices in the 10-state region declining for the 46th straight month, slumping to 39.6 from the 43 in August.