Economists leave academia behind to farm full time
Fifteen years ago, while in graduate school, Brent Gloy dreamed of returning to Grant, Neb. Following stints as a respected ag economist at Cornell and Purdue Univeristies, he's back on the family corn and wheat farm.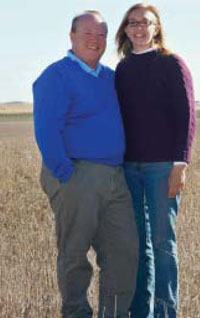 After talking about it for more than a decade, Brent and Angela Gloy—former ag economists at Purdue University—returned to Brent's family farm in Nebraska.
"It got to the point where it was now or never—that we can't say next year anymore," he says.

Returning to the farm was a real opportunity and hard to pass up, he adds. "A lot of people never get that." 

But the decision also involved his wife, Angela, and their three children. "It's been a positive experience," says Angela, also an ag economist. Still, the idea took some getting used to. Her background as a succession planning specialist at Purdue gave her a springboard to put her expertise to work in discussions with family members and identify issues to work through.

To test the waters, the Gloys spent the summer of 2013 on the farm. Even after the test run, it wasn't the automatic decision for Angela that it was for Brent; their backgrounds are vastly different. Angela grew up in greater Washington, D.C., "about as urban as you can get," Brent says. The fact  she comes to the farm from a different perspective is beneficial in seeing new approaches, he adds. "She doesn't have all the biases we have."  

Angela acknowledges 15 years ago, she could never have made the transition. Her mind set started to change with each move—from Washington, D.C., to Ithaca, N.Y., to West Lafayette, Ind. In 2007, the Gloys had a great experience on sabbatical in a small town in Iowa. 

Before making the move to rural Nebraska, Angela had some questions that needed resolving, such as the quality of schools and health care. After a bit of research, she was ready to move forward.

Angela has worked with farm families in transition for years and says "people I know who farm are happy. People would tell me they hoped I would get to farm someday."  

While ultimately it became a quality of life issue, Angela says she still has a few more details to work out, such as defining her role on the farm. She also doesn't know right now how she will use her economic training. "This first year I'm on sabbatical," she explains. "It's very important I learn how the business works." 

Still, she's adjusting to a world in which everyone knows everyone. "That's not bad, it's just that I'm not used to it. It's a close-knit community," Angela says. 
When it comes to putting his economic training to use, Brent says he's comfortable with budgeting, marketing and finance. "One of the things I need to understand better is the agronomic side of the business," he says. "I need to get up to speed." One advantage he has is getting to learn those skills from his parents, Don and Jorga, and his uncle, Robert.

Gloy has great humility about what he is embarking on thinking about what his parents encountered during their farming career. "They did it without the risk management tools we have today, like crop insurance," he says. 

While there haven't been many surprises, Brent acknowledges there have been adjustments. "You understand about risk as a professor. But when you sign your name, it gets real very fast," he notes. 

There is another important difference between economics and the business of farming. "Economists love choices and alternatives," Brent says. "That's my biggest hang up. I can't analyze things into the ground as a farmer. Farmers have to make decisions."

When Brent started to talk with his parents about coming back to the farm, they agreed he would handle the marketing. After further discussions, they concluded while farming together, they'd split up the crops on a crop share basis and each do their own marketing. 

"My dad is a little more aggressive on price than I am," Brent says.

With his first year of farming under his belt, Brent is trying to keep costs low and get somewhere in the ballpark of an average yearly price. Knowing his production costs are crucial to his day-to-day operation, he prints them out and carries them around with him. 

What's the economist turned farmer view of the future? "Next year, the big thing is crop insurance guarantees. If crop insurance prices are too high, people will plant too much, and there won't be much upside," Brent says. 

He is planning for corn prices between $3.70 to $4.50 per bushel for the next few years, knowing they might be lower.  

Because of his outlook and his risk adverse nature, Bent says for now he's not focused on expanding the operation. "I'm not interested in being very aggressive. I need to figure out how to farm first," he says.
---
Five Tips for a Successful Transition
Brent and Angela Gloy have found the following five succession plan preparation strategies useful, based on their transition to the farm and Angela's work with other farmers as a succession planning specialist: 
1. Assess financial feasibility. Can the farm support another family?  What are each family's annual cost of living and income needs? How will those needs change over a five- and 10-year horizon?
2. Begin the planning process early. Planning in advance offers owners more options to transfer ownership interests.
3. Highlight the need for transparency. Clear communication about concerns, expectations and financial positions mitigates surprises. 
4. Formalize a business plan. Assess the farm's financial situation and marketing strategies, as well as short- and long-term business goals.  A shared business vision allows owners to focus on operational concerns without compromising the end goal.   
5. Remember, sometimes you have to "roll with it." Each owner brings value to the table. The ability to be flexible and respectful is critical.