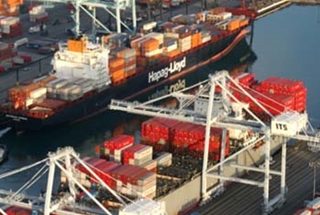 Russia introduced taxes on wheat exports, an effort to reduce food prices after the ruble's collapse made it attractive for farmers to sell grain abroad.
The tax, which runs from February through June, will be 15 percent of a shipment's total value, plus 7.50 euros ($9.14) a metric ton, according to a statement posted today on the government's website. The charge will reduce exports by at least 6.5 percent for the season ending June 30, the Institute for Agricultural Market Studies, or Ikar, predicted today.
Russia, the world's fourth-biggest wheat exporter, is adding restrictions to international grain shipments to cope with a currency crisis that has raised food prices for consumers. While in the past Russia's curbs have boosted wheat prices on the Chicago exchange, the effect will be smaller this time because of a record global harvest, according to Dmitry Rylko, director of Moscow-based market researcher Ikar.
"This wheat may be sourced from our Black Sea neighbors," he said by phone today. "It's like a slight cold for the world market."
The move follows similar export duties in 2008 and 2004. In 2010, the nation banned companies from shipping wheat overseas amid the worst drought in a half-century, leading to a 47 percent surge in Chicago prices that year.
Excess Profits
Wheat for March delivery has declined 2.2 percent since Russia announced the tax on Dec. 22, trading at $6.1175 a bushel as of 8:34 a.m. on the Chicago Board of Trade.
The tax will amount to at least 35 euros a ton, according to the government's statement today. The extra payment isn't likely to cause losses for farmers because the government is targeting only "excess profits," Deputy Prime Minister Arkady Dvorkovich said on Rossiya 24 television yesterday.
The ruble has fallen 39 percent this year, the most among 24 developing countries monitored by Bloomberg, as falling oil prices and sanctions over the Ukraine conflict pushed the Russian economy toward recession. The currency's decline made it cheaper for overseas buyers to purchase Russian grain, leading to a surge in exports that helped drive up the cost of bread for local consumers.
Russia exported a record 14.4 million tons of wheat from July through Dec. 1, according to Vladimir Petrichenko, director general of market researcher ProZerno.
Government regulators have turned to a variety of measures to slow down shipments, such as denying certificates that grain sellers and buyers need after sanitary inspections and blocking contaminated cargoes. Exports came to a complete halt on Dec. 18, Arkady Zlochevsky, president of the nation's grain union, said this week.
Officials will exercise more scrutiny before issuing grain- safety certificates after sanitary inspection, Deputy Prime Minister Dvorkovich said in the television interview. Trucks arriving at port will be turned back if found being overloaded, he said.