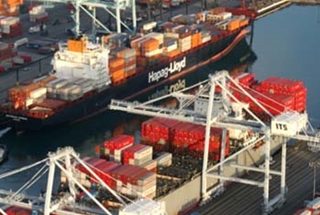 Russia plans to introduce grain export duties, reinforcing a willingness by the fourth-biggest wheat supplier to protect domestic interests that helped bring about a decade of food-cost turmoil.
The government said today it would develop duty proposals within 24 hours as it tries to rein in domestic prices inflated by a rout in the ruble. That follows export duties in 2004 to limit shipments, a jump in the rates in 2008 to brake inflation and an outright ban in 2010, when drought caused crop failure. Chicago wheat prices soared 47 percent that year.
Russia, which accounted for about 1 percent of world wheat exports at the start of the 1990s, was projected to make up 14 percent this season, before export curbs were announced, U.S. Department of Agriculture data show. The country's share fell to 3 percent after the 2010 ban, from 14 percent a year earlier.
"For some years we were under the impression that they were as reliable as the traditional suppliers," Abdolreza Abbassian, a senior economist at the United Nations' Food & Agriculture Organization, said by phone from Rome today. "A good crop is no guarantee that Russia will export either."
Wheat prices have risen more than 30 percent in Chicago in the past three months amid expectations Russia would choke off exports.
The FAO's index of world food prices rose to an all-time high in 2011, having dropped through early 2009 from a previous peak the year before. International food prices tracked by the agency dropped to a four-year low in November, down 20 percent from the 2011 record.
Wheat Prices
Wheat for March delivery rose as much as 1.9 percent in Chicago to $6.445 a bushel, and has gained 4.4 percent this year, while Paris milling wheat for the same month added as much as 2.4 percent to 202 euros ($247.50) a metric ton, falling 2.6 percent since the start of 2014.
"Russia remains true to itself and its history," said Thibaut Amate, an analyst at Horizon Soft Commodities in Noisy- le-Grand, France. "Russia does not care about the rules of the West and serves only its own interests."
The country's grain exporters asked the government to withhold export duties until after March 1, Interfax reported today, citing a letter from the National Association of Exporters of Agriculture Products.
"Russia would be losing face as an unreliable supplier," said Natalya Volchkova, an assistant professor at Moscow's New Economic School. "It's one thing to restrict exports because of bad harvest, and another to do it on the account of politics, which is worse."
Slowing Shipments
Russia started slowing down shipments by denying certificates that grain sellers and buyers need after sanitary inspections, Russian exporters said last week. Agriculture Minister Nikolai Fedorov said Russia might scrutinize shipments through offshore companies, and the nation's agriculture watchdog said last month it would block outbound cargoes it deems contaminated.
Russia "looks like an inconsistent rather than an unreliable supplier of grain," Jack Watts, the lead analyst for grains at the U.K.'s Horticulture & Agriculture Development Board, wrote in an e-mailed reply to questions. "When Russia has issues, the world's focus shifts to the relative consistency of the U.S. and EU."
Egypt Tender
The country included Egypt and Turkey among four nations for which inspectors will continue to supply sanitary certificates. Egypt, the world's largest wheat importer, bought 60,000 tons of Russian wheat in a tender on Dec. 20 along with 240,000 tons of French grain.
"Russia is in fact very conscious that if the ordeal of a few years ago should be repeated, they could lose Egypt once and for all," Abbassian said. "So they're trying to come up with something that will keep the traditional importers happy."
Russia exported 18.5 million tons in 2013-14, making it the fourth-biggest exporter, from 3.1 million tons a decade earlier. The Black Sea region exporters, which also include Ukraine and Kazakhstan, jointly supplied 36.4 million tons, compared with U.S. exports of 32 million tons.
Russia's clout in the wheat export market means major buyers will have a hard time foregoing its grain, according to Abbassian and Amate. Russia's inconsistency as a supplier means it will have to offer attractive prices to lure buyers, Watts said.
"If next season Russia comes out with the most competitive prices, I think everyone will have forgotten about this year's restrictions and won't hesitate to buy Russian wheat," Amate said.