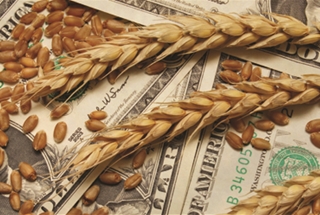 Russia said it will increase the price it pays for wheat in a move to boost domestic stockpiles as the currency's plunge drives up the cost of bread.
The country plans to increase grain reserves to at least 5 million metric tons to ensure supplies for flour millers and animal feed producers, Agriculture Minister Nikolai Fedorov told reporters today in Moscow. Prices are rising in Russia, the world's fourth-largest wheat exporter, after foreign buyers took advantage of the weakening currency to increase grain purchases.
"The government needs to offer a price to be able compete with exporters," Daryna Kovalska, an analyst at Macquarie Group Ltd. in London, said by phone. "They want to fight food inflation."
Russia's food inflation accelerated to 12.6 percent in November with the economy teetering on the brink of a recession. The ruble tumbled to a record low today versus the dollar as panic swept across the country's financial markets after a surprise interest-rate increase failed to stem the run on the currency.
Wheat rose as much as 3.2 percent to $6.39 a bushel in Chicago, the highest since May. In Paris, futures added 2 percent to 195.50 euros a ton.
Russian Grain
Russia isn't likely to put an embargo on grain exports anytime soon, Federov said. State reserves held 1.4 million tons of grain as of Nov. 25, according to the Agriculture Ministry.
Farmers in Russia have refrained from selling grain on the domestic market as the ruble declines, market researcher SovEcon said Nov. 17. The government has been unable to purchase any milling wheat at its weekly buying sessions at the National Merchandise Exchange since Oct. 28, according to data from the exchange.
In the country's Western region, a main supplier of wheat for exports, the government's price will increase to 9,300 rubles ($128.42) a ton for fourth-grade milling wheat, Fedorov said. He didn't specify when the measure will take effect.
That variety of wheat rose 4.9 percent in the past week to 10,625 rubles a ton, according to data from SovEcon as of Dec. 12.
"If ruble continues to devalue and the domestic price continue to go up, farmers aren't going to sell," Matt Ammermann, a commodity risk manager at INTL FCStone, said by phone today. "They will need cash for financing in the spring, so we may start to see a little more selling in the February- March timeframe."