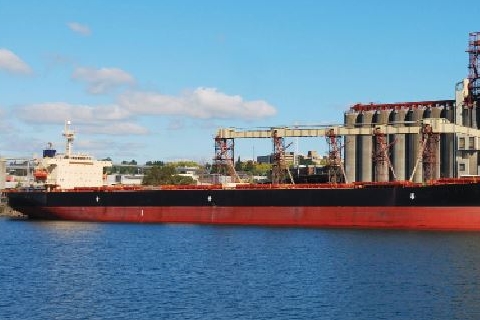 Russia is planning to reduce curbs on wheat shipments, which may lead to an even bigger glut of grain worldwide.
Policy makers are working out the details for cutting the current tax on exports, Deputy Prime Minister Arkady Dvorkovich told reporters Wednesday outside Moscow, adding that the change may happen in May. The government, which started the wheat duty in February as a way to rein in food prices, had previously said it would remain in place until the new crop marketing year starts July 1.
The country, last year's fourth-biggest wheat exporter, has sought to protect domestic grain supplies amid surging food inflation and a weakening ruble. Since the tax was put in place, shipments from Russia plunged by more than half and importers shifted purchases to other suppliers including the European Union.
"Russia will be the cheapest wheat in the market if the export duty goes away," Stefan Vogel, head of agricultural commodities research at Rabobank International, said by phone from London. "It gives the market a bit of an optimistic picture for the supply of wheat for the global market."
Wheat prices are near the lowest since 2010 after massive grain harvests in the U.S. and EU pushed output to an all-time high. In Russia, every wheat shipment incurred a tax of 15 percent, plus 7.50 euros ($8.36) a metric ton since Feb. 1.
Good Weather
Recent rainfall has improved the prospects for Russia's next harvest. The country may produce as much as 59 million tons of wheat, more than previously expected and near the level of the prior year, according to the Institute for Agricultural Market Studies, a Moscow-based researcher.
Russia's wheat tax "should be zero or near zero," given current prices, according to Dvorkovich, who spoke at President Vladimir Putin's Novo-Ogaryovo residence outside Moscow. The government is working on a formula that allows for adjustments based on currency conditions and global prices, he said.
Speculation about the tax has left global grain markets on edge in recent weeks, after Dvorkovich said April 3 that he favored extending the levy. Russia exported 1.1 million tons of wheat from Feb. 1 to April 8, 59 percent less than in the same period in 2014.
Wheat futures on the Chicago Board of Trade, the global benchmark, touched $4.64 a bushel on Tuesday, the lowest since 2010. Traders had anticipated the tax might be adjusted, Vogel said.
"We will see a more powerful export flow of wheat" as the tax is reduced, Vladimir Petrichenko, director general of Moscow-based market researcher ProZerno, said by phone. "Farmers will receive more money during the planting season when they drastically need it. It's a signal that it's good to invest in wheat."