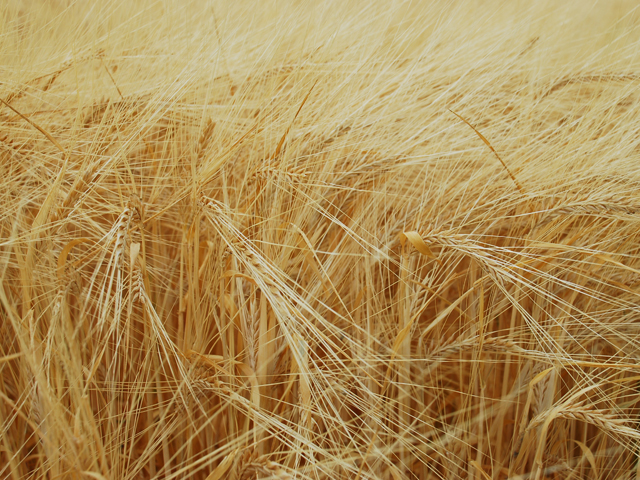 Russia is preparing to harvest more barley than last year even with world demand for the grain sagging as China turns toward using its own corn stockpiles for animal feed.
Farmers may reap as much as 18.5 million metric tons of barley, mostly used as feed, this year after a warm winter followed by rains nurtured the plants, said the Institute of Agricultural Market Studies, or Ikar, in Moscow. It would be the third-biggest crop in 14 years, up from 17.5 million tons last year.
That's as China, the second-largest buyer, is set to cut imports by about 29 percent to 5 million tons and rely on its corn stockpiles for feed, according to the International Grains Council. 
Feed barley prices may be low next season "because of the unbalanced situation between supply and demand," said Alexandre Boy, an analyst at Paris-based farm adviser Agritel. While "a good harvest in Russia is bearish, the key point will be the level of purchases from China."
Russian barley for loading at the Black Sea port of Novorossiysk fell 3.1 percent to $158 a ton on June 17 from a week earlier, according to data compiled by Ikar. That's near the lowest since July 2010 on free-on-board terms, Ikar director Dmitry Rylko said.
The top two barley suppliers, the European Union and Australia, also expect bigger crops, while global trade will probably shrink 11 percent to 24.4 million tons next season, IGC figures show. The EU barley price fell to $159 a ton on June 16 in the port of Rouen, the lowest level since March, the council reported.
Shipments from the EU will drop 26 percent to 7.5 million tons next season, while those from Russia, the fourth-largest exporter, will hold at 4 million tons, it estimates. 
"The EU has been doing an unusually large amount of business with China over the past couple of seasons," Amy Reynolds, a senior economist at the IGC in London, said by phone. "We are expecting that trade probably to fade a little bit in the coming year."
Russia sells the grain mostly to Saudi Arabia and Iran. The harvesting of barley planted in the autumn began earlier this month. The variety planted in spring will ripen later.