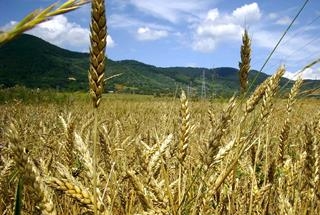 Spot prices for Russian milling wheat at the main export hub declined last week for the first time since July amid ample global supply, according to Andrey Sizov, managing director at market researcher SovEcon.
The average price for wheat with protein content of 12.5 percent fell to $237 a metric ton at Novorossiysk Commercial Sea Port PJSC by Aug. 26, from $245 the week before, he said. Global wheat production will rise to a record 719.95 million tons in the 2014-15 season, the U.S. Department of Agriculture said Sept. 11.
"Russia has ignored all this," Sizov said today by phone from Moscow. "Now things are coming apart."
Prices need to drop to $233 to compete with supplies from the U.S. and France in tenders by Egypt's state-run buyer, the General Authority for Supply Commodities, Sizov said. The agency purchased 55,000 tons of U.S. wheat Sept. 20, its first cargo of U.S. grain since March, according to data compiled by Bloomberg. The North African country, the world's biggest wheat buyer, purchased 180,000 tons of French wheat earlier this month.
Russian farmers may hold on to their wheat for a few weeks before they get used to lower prices, which would reduce the country's exports next month, Sizov said. Russia exported 9.2 million tons of wheat by Sept. 24 since the season started July 1, the Russian Agriculture Ministry said on its website last week. The country's total exports of the cereal this season probably will be 23 million tons, SovEcon said Sept. 16.