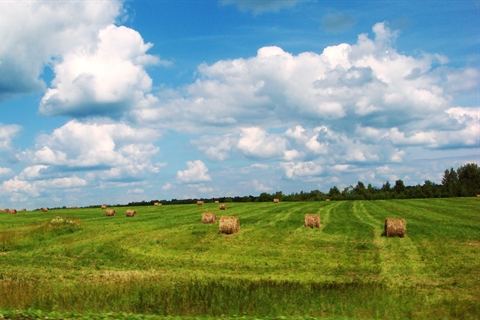 European wheat shippers will be the winners if Russia continues to restrict grain supplies leaving the country.
Exports from Russia may be less than U.S. government forecasts this season as the nation adds rules to make shipments more difficult, according to Rabobank International. Grain buyers may turn to other European countries, while the U.S. is too expensive, said Stefan Vogel, head of agricultural commodities research.
"A lot of people are seeing the uncertainty in Russia and trying to secure some quantities in other origins," he said in an interview yesterday from London. "It will be different regions, partly France, partly Germany, maybe the Baltics, and also the Black Sea countries, Romania and Bulgaria."
Russia, the world's fourth-biggest wheat exporter, is battling a currency crisis that has weakened the ruble by about 45 percent this year and raised the cost of bread. Wheat rallied for the six days through yesterday on concern the country is using a variety of methods to slow shipments, such as denying export certificates and restricting railway deliveries.
Russia has already shipped 15 million to 16 million metric tons of wheat out of the 22 million tons expected by the U.S. Department of Agriculture for the season, Vogel said.
While the country will cut some deliveries, exports to major buyers including Egypt and Turkey will continue, he predicted, leaving total exports about 3 million to 4 million tons less than the USDA estimate.
Wheat Licenses
Wheat exports from the European Union are 1.8 percent higher than the same time last year, even though the USDA projects shipments will decline this season. Licenses granted to ship wheat total 13.6 million tons since the marketing year started in July, according to data released by the bloc yesterday.
If EU wheat exports keep rising, shipments from France will be limited by the poor quality of the harvest and Europe may need to import more corn to meet demands for livestock feed, Vogel said. Wheat futures on the Chicago Board of Trade are up 4.9 percent this week, while corn is little changed.
French wheat is competitive on the international market. Spot-market prices for French milling wheat were about $10 a ton cheaper than supplies from the Black Sea region as of Dec. 16 and $34 a ton below soft, red winter wheat from the U.S., according to data from the London-based International Grains Council.
Alternative Suppliers
"This situation will confirm the importance of alternative wheat suppliers from the Black Sea like Ukraine," said Sergey Feofilov, the general director of Kiev-based researcher UkrAgroConsult.
Ukraine may have few stockpiles left to export after a record 9 million tons of wheat were shipped this season, according to Feofilov. Shippers at this time of year are mostly focused on corn instead of wheat, he said.
U.S. prices may need to fall before the country sees an uptick in business, said Christopher Narayanan, the head of agricultural research at Societe Generale SA in New York. Export sales since the marketing year began have dropped 24 percent from last year to 17.9 million tons, according to the USDA.
"We're not seeing the U.S. take up any business right now," Narayanan said by phone. "That could change, but given the fact that it's really expensive versus everybody else, it's not very likely."