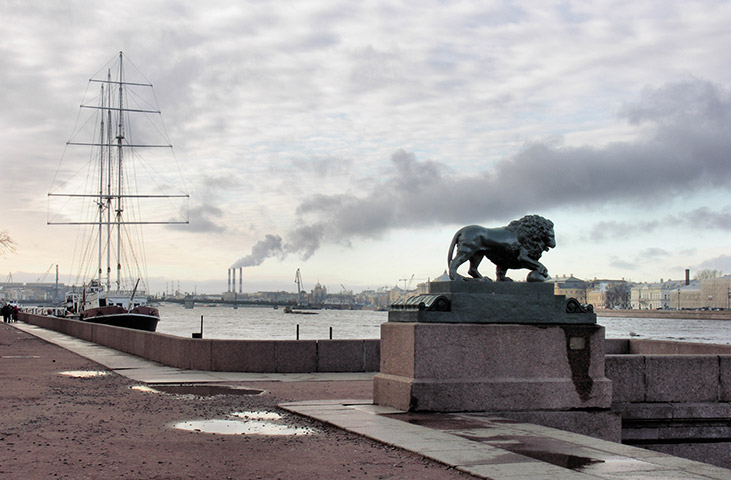 Much has been made of Ukraine's emergence as a new kid on the grain exporting block, but it's not the only Black Sea powerhouse. Russian grain exports are also up sharply, with wheat, barley and corn exports nearly doubling from just over 15 million metric tons (MMT) in the 2012/13 marketing year to nearly 30 MMT forecast for 2014/15.
"Russia's investment in deep water port capacity and improvement in logistics management are boosting its ability to ship larger quantities of grain," says USDA's Foreign Agriculture Service (FAS) in its latest Grain: World Markets and Trade.
Modernization of grain loading equipment, storage and rail transportation "have eased bottlenecks that caused shipping delays in the past," FAS says. Still, weather can cause unpredictable delays across distribution channels.
"Investments in ports and logistics management have contributed to record shipments," FAS says. In a typical year, nearly 40% of wheat exports are shipped during July-September, immediately following harvest. This year, exports in August alone were a record 4.2 MMT (20% of the total export forecast).
"Russia's wheat and barley exports are both projected at record levels," FAS says. Corn exports also are expected to remain strong, although down from last year's record.
"The implications for global trade have been profound, particularly for wheat," FAS says. World wheat trade has risen nearly 40% in 10 years, with Russia capturing a substantial portion of the increase. While Russia's wheat production and exports can vary, production has grown 30% over the period and exports have tripled.
World wheat, flour and products exports are projected to be 154.9 MMT in 2014/15, down 7 MMT from the current marketing year. U.S. exports are forecast to decline in 2014/15 to 25 MMT, a 21% drop.
Global corn exports are projected to decline 7.7% from 127 MMT in 2013/14 to 117 MMT in 2014/15, despite record production. Larger crop forecasts for the U.S., the European Union and Brazil more than offset smaller production in China, Argentina and Ukraine.
U.S. exports are forecast to decrease by 10% in the upcoming marketing year to 44.5 MMT. Still, the U.S. is forecast to export twice as much as second place Brazil. Brazil's exports of 22.5 MMT are only marginally higher than the current marketing year.
Rounding out the top five corn exporters for 2014/15 are Argentina, 13.5 MMT; Ukraine, 4.2 MMT; and Paraguay, 3.5 MMT. World ending stocks are forecast to rise to 189.9 MMT in 2014/15, up 9.7%.
Premium U.S. corn quotes over South America have remained largely unchanged from the previous world trade report, even as U.S. new crop sales wane and South American shipments ramp up. Black Sea quotes remain about $10/ton below U.S.
China is widely looked upon as having the potential for increased corn imports, but FAS projects Chinese corn imports in 2014/15 of 3 MMT, down from 3.5 MMT in the current marketing year. Chinese ending stocks are forecast to be virtually unchanged from current year levels.