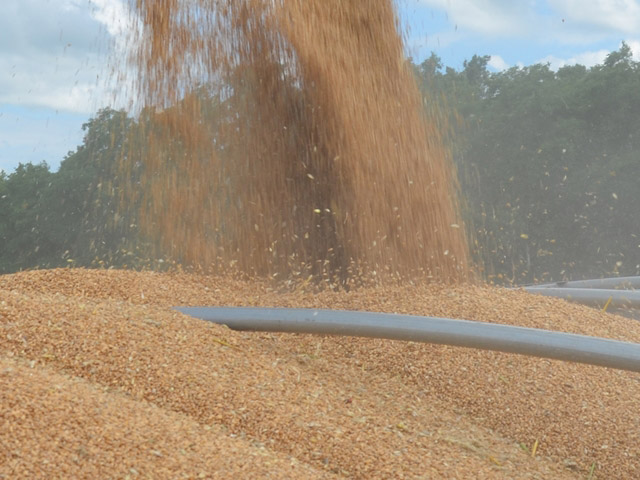 Russian wheat exports in July were probably the smallest for that month since 2009 after rains delayed harvesting near Black Sea ports and a new tax took effect.
Russia shipped 1.3 million metric tons of wheat overseas last month, the first of the harvesting season, according to an estimate by Dmitry Rylko, director of the Moscow-based Institute for Agricultural Market Studies. That is the lowest since July 2009, when exports were 871,000 tons. The Agriculture Ministry is expected to post data for all of July later this month.
Rylko blamed the slow pace of exports on rains in Russia's southern regions, which are closest to Black Sea ports. The downpours soaked plant stems, "considerably" complicating harvesting conditions in the July 1-15 period, the government's weather service said last week.
Farmers were reluctant to sell at prices that would allow Russian wheat to be more competitive on global markets, said Petr Khodykin, who owns Russia's largest grain exporter OOO Trading House RIF, which is based in Rostov-on-Don. "Exporters were forced to buy wheat expensively," he said by phone. "And it was almost impossible to buy anything."
The tax on wheat exports, which took effect on July 1, contributed to the decline in Russia's international shipments, according to Sergei Balan, president of the Moscow-based National Association of Exporters of Agriculture Products, whose members include Cargill Inc. and Louis Dreyfus Commodities LLC. Russian customs officers continue to apply a "subjective" approach to calculating tax rates, he said by phone Monday.
Increased enforcement of truck-loading rules by traffic police curbed the amount carried by vehicles and also slowed exports, Rylko said. Russia may boost international shipments this month as the southern regions complete harvesting, he said.