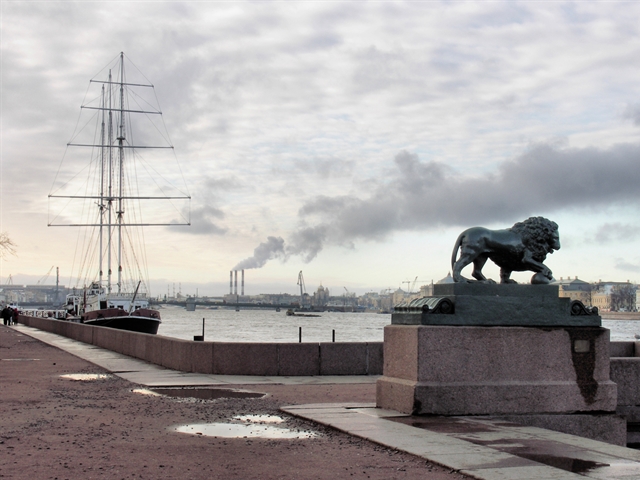 Ukraine's conflict over the past year has undermined Russia's quest to wean itself from foreign meat.
The annexation of Crimea and Russia's support of rebels in eastern Ukraine led to economic sanctions, trade bans and a weaker ruble. In a country that became the world's fifth-largest food importer as rising incomes boosted demand for chicken and pork, domestic producers now find it is too expensive to import new equipment and borrowing costs have doubled.
"All costs need to be recalculated," Alexey Zhdanov, deputy chief executive officer of Russian Agricultural Bank, said at a conference from Moscow on Feb. 6. "Demand for new investment loans is zero."
Russia in August banned food imports from the U.S. and the European Union in retaliation for the economic sanctions, just as plunging oil prices sent its energy-dependent economy closer to recession. The ruble tumbled to a record low in December, and food inflation is accelerating at the fastest pace in six years. As costs rise, meat producers including Cherkizovo Group and Prodo Management are reconsidering investments in new capacity.
Prime Minister Dmitry Medvedev said in August that the trade bans would usher in "a new page" for domestic farmers to achieve self-sufficiency. Instead, the country is facing a potential banking crisis as U.S. and European sanctions shut off financing abroad and high borrowing costs hurt domestic growth. Food prices surged 21 percent in January, the most since of any month since 2008, government data show.
Expansion Costs
After the meat industry expanded for most of the past decade, more investment is difficult with the ruble worth half what it was a year ago and Russia's key interest rate at 15 percent, said Yury Kovalev, who represents 174 companies as head of the National Pig Farmers Union in Moscow. Even with government subsidies, farms are paying 20 percent interest on bank loans, up from 8 percent in July, he said.
Moscow-based Cherkizovo, Russia's largest meat company, said it is reevaluating plans to expand pork operations in the Voronezh region near the Ukrainian boarder after costs jumped 20 percent since the currency devaluation.
"The main parameter now is how much and at what rate banks are ready to loan in current conditions," Alexander Kostikov, head of investor relations at Cherkizovo, said in a Feb. 5 e- mail.
Poultry Farms
Chicken-producer Prodo has altered plans to expand farms in Siberia and the Ural mountains, which will be built in stages rather than all at once, Chief Operating Officer Petr Iliukhin said.
After the import ban, Russia began buying more meat from Brazil and China. That won't be enough to make up for lost supplies, said Albert Vernooij, an analyst at Rabobank International in Utrecht, Netherlands.
The Russian government is stepping in to help keep expansions of food-production capacity on track. The Economy Ministry is leading a commission to distribute affordable loans, and the Russian Agricultural Bank said earlier this month that it will lend more than 13 billion rubles ($207 million) to two poultry producers at a rate of 11.5 percent.
Cheaper Loans
Getting access to cheaper government loans will make all the difference for two new processing facilities planned by Ros Agro Group, Russia's second-largest pork producer.
"If our projects were approved, we will start doing them right away," Maxim Basov, chief executive officer of the Moscow-based company, said in a Feb. 5 phone interview. Without the subsidized rates, "our projects don't make sense," he said.
Surging grocery bills may discourage consumers from buying imported meat and force them to opt for cheaper foods, said Brett Stuart, president of Global Agritrends, a market consulting company in Denver. While the country only produces about 80 percent of its own poultry and pork, it has a surplus of wheat and is mostly self-sufficient in potatoes, USDA data show.
Because of the higher prices, meat demand in Russia fell last year for the first time since 2009. Chicken, the most popular meat, costs 111 rubles a kilogram ($0.81 a pound) and reached a record in September, according to Meatinfo, which tracks average costs since 2006.
GEA Farm Technologies Inc., Germany's biggest producer of milking equipment, expects sales of new machinery in Russia to drop in the first half, compared with last year, because banks aren't lending enough money to dairies.
"The problem is finance," Bjoerne Drechsler, president of GEA Farm Technologies unit in Moscow, said by phone. Farmers "would like to expand because the margins are good, but they can't from the cash flow that they have," he said.