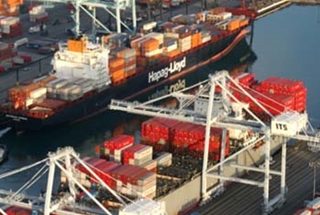 Russian soybean meal imports will probably fall at least 10 percent to 400,000 metric tons this season on expectations for more local output and a weaker ruble, market researcher Ikar said.
Russia expects to replace some of the imports of the protein-rich animal feed, mostly from Latin America, after forecasts of a record domestic soybean crop, Irina Kuguchina, an Ikar researcher, said by phone from Moscow today. Farmers may reap at least 2.3 million tons of soybeans in this season that started Sept. 1, after expanding the planted area, she said. Her estimate is higher than the 2.2 million tons forecast by the Russian Economy Ministry on Sept. 26.
The ruble dropped 21 percent against the dollar this year, making purchases of commodities in the domestic currency more expensive. Russia's capacity to make soybean meal increased as two oilseed-crushing plants began operating earlier this year.
The plant openings "are reassuring farmers to cultivate this crop," Kuguchina said. "The plants are reinforcing demand."
Alexeyevsky Soybean Plant, which can process 660,000 tons of soybean a year, started work in May, its chief accountant Yevgeny Gutara said by phone from Alexeyevka in the Belgorod region, where the company is based. Balakovsky Oil Extraction Plant, in the Saratov region is fully operational, a Sept. 26 statement from its owner OOO UK Solnechny Produkty showed. The unit can crush 520,000 tons of soybeans a year, industry publication Agroinvestor reported on its website July 17.
Russian-grown soybeans contain less protein than Latin American beans, which support imports of soybean meal, Kuguchina said. Domestic soybean meal consumption will probably rise to 1.8 million tons this season, from 1.7 million tons a year before, she said.