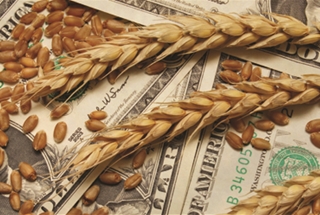 Wheat farmers in the U.S. can't catch a break. Even after they harvested the smallest crop in three years, prices are plunging because output has surged almost everywhere else in the world.
With ample inventories, buyers including China, Brazil and Nigeria are getting less from the U.S., the largest exporter. Demand, including overseas sales, is the weakest in almost two decades, while a surging dollar makes U.S. grain less appealing than supplies from other countries. Compounding the slump are domestic cattle producers who have gone back to using more corn in feed rations.
Chicago wheat futures are down 17 percent in the past month. Bigger harvests last year from Argentina to Russia and the rest of Europe sent global output to a record, eroding the U.S. share of global trade to the lowest since before 1960. Cheaper grain is reducing costs for flour buyers including Grupo Bimbo SAB and Panera Bread Co., and helping to send food prices tracked by the United Nations to a four-year low last month.
"U.S. wheat is not competitive, and there are plenty of supplies around the world," said Joe Lardy, research director at Inver Grove Heights, Minnesota-based CHS Hedging Inc., a unit of the nation's biggest agricultural cooperative. "As long as other suppliers continue to offer cheaper wheat with lower shipping costs, the U.S. won't be a major exporter."
Wheat has fallen to $5.0175 a bushel on the Chicago Board of Trade since Dec. 26, capping the steepest decline of all but crude oil among 22 raw materials tracked by the Bloomberg Commodity Index, which dropped 6.5 percent and touched a 12-year low on Jan. 26. The MSCI All-Country Index of world equities slid 2.1 percent, while the Bloomberg Dollar Spot Index rose 3 percent.
Record Supply
After record world harvests and shipments last year, global export sales will drop 4 percent in the year through May to 159.19 million metric tons, the U.S. Department of Agriculture said Jan. 12. U.S. exports will fall 21 percent to 25.2 million tons, reducing the nation's share of global trade to 16 percent, the lowest since the data begins in 1960, the government said.
Inventories in the U.S. on Dec. 1 expanded 3.4 percent from a year earlier to 1.525 billion bushels, as demand from domestic users and exporters over the previous three months fell to 415 million bushels, the least since 1997, the USDA estimated on Jan. 12.
Consumption of wheat as animal feed in the 12 months ending May 30 will fall 34 percent to 150 million bushels, the lowest in four years, the USDA said. Livestock producers are switching to corn, the biggest source of feed, after two record harvests sent the grain tumbling to the lowest price since 2009.
Reduced Planting
Slumping prices may encourage farmers to plant other crops. Global wheat production will drop 0.5 percent from last year's record, while U.S. farmers may sow the fewest acres in four years, Memphis, Tennessee-based researcher Informa Economics Inc. said Jan. 15.
Planting from September to November of winter wheat, which accounts for more than two-thirds of domestic supply, fell 4.6 percent because of late corn and soybean harvests and unusually wet weather, Jeff Koscelny, wheat commercial lead for St. Louis- based Monsanto Co., the world's largest seed company, said in an interview Jan. 13.
"Supply risks for the 2015-2016 season will return to the market and support prices going into 2016," Colin Hamilton, global head of commodity research at Macquarie Group Ltd., said in a Jan. 19 report. "Stronger feed demand and a recovery in corn prices will also contribute to the upside."
No Appeal
For now, exporters are aggressively discounting to unload inventories before the Northern Hemisphere harvests begin in May, said Christopher Narayanan, head of agriculture research for Societe Generale SA in New York. Increased supplies from the European Union, Ukraine and Canada will more than make up for any trade hurdles in Russia, the USDA said.
"Prices will move lower," said Narayanan, who predicts futures will fall below $5 before the end of March. "The Russian export duty is just not an issue because there is no global shortage and plenty of willing sellers."
Money managers have cut their holdings in Chicago wheat futures and options for four straight weeks and are now bearish for the first time since early December, government data show.
Even as prices drop, wheat has no appeal for Mutt Schuman at Cactus Feeders Inc., which raises hundreds of thousands of cattle in Texas and Kansas that consume 48 million bushels of grain annually. After boosting wheat use in May 2012 and dropping corn altogether in August and September 2013, the company has switched back. Wheat went from a discount of 63 cents a bushel in June 2013 to a premium of $3.33 four months later.
"Rarely do we feed wheat when it is more expensive than corn," said Schuman, the vice president for commodity procurement at Amarillo, Texas-based Catcus Feeders.