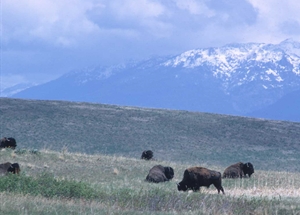 Outcry from ranchers causes Montana officials to reconsider free-roaming bison herd.
By: Matthew Brown, Associated Press

Expectations for a statewide bison-conservation plan were scaled back by Montana's top wildlife official on Wednesday following backlash from ranchers opposed to restoring the animals to parts of their historical habitat.
Fish, Wildlife and Parks Director Jeff Hagener said in an interview with The Associated Press that it was no longer considered viable to establish a herd of free-roaming bison without any fencing or other limitations on where they can go.
A pilot project to restore a small herd of 50 to 100 bison is a potential first step in the conservation plan, Hagener said. That's a far more modest goal than one earlier proposal to create a new herd of roughly 1,000 animals somewhere in Montana as a way to help preserve their genetics.
Hagener said he hopes to compile a range of new alternatives before the Legislature meets in January. Timing on a final decision is uncertain. State officials originally hoped to have a plan in place by the end of this year.
"Free-roaming is unrealistic," Hagener said. "There's going to have to be some level of containment."
State officials last week cancelled a long-scheduled, two-day meeting on bison that was planned in Lewistown. The move came after ranchers pledged to protest the event.
Those involved in the meeting decided it would be counter-productive given the strong antipathy to the animals that's emerged in many eastern Montana ranching communities, Hagener said.
The opposition centers on worries that bison will destroy fences and other property and compete with cattle for grazing space on an arid landscape that can support only so many animals.
"They want them to roam like elk and antelope," said Vicki Olson, a rancher south of Malta. "I have those (elk and antelope) on my ranch and live with them, but I don't think I can live with bison."
Tens of millions of plains bison roamed North America before overhunting drove them nearly to extinction in the late 1800s.
Restoration of the animals in Montana would rely on surplus bison from Yellowstone National Park., which has the largest surviving wild herd of genetically pure animals. The park has struggled to keep the population in check as required under a federal-state agreement intended to prevent the spread of a disease that can spread to livestock.
About 60 bison captured from the park were relocated beginning in 2012 to Montana's Fort Peck and Fort Belknap Indian reservations. The animals had gone through a lengthy quarantine to ensure they were disease-free, yet the move was widely condemned by ranchers and some state lawmakers.
An additional group of about 135 to 150 quarantined bison are being held on a ranch near Bozeman owned by media mogul and bison advocate Ted Turner. They are scheduled to be moved by November. The prospects of the animals ending up on public lands appear increasingly slim given the delays in the statewide conservation plan.
Those animals could end up on tribal land or under the care of a private conservation group at least temporarily until the plan is finalized, Hagener said.