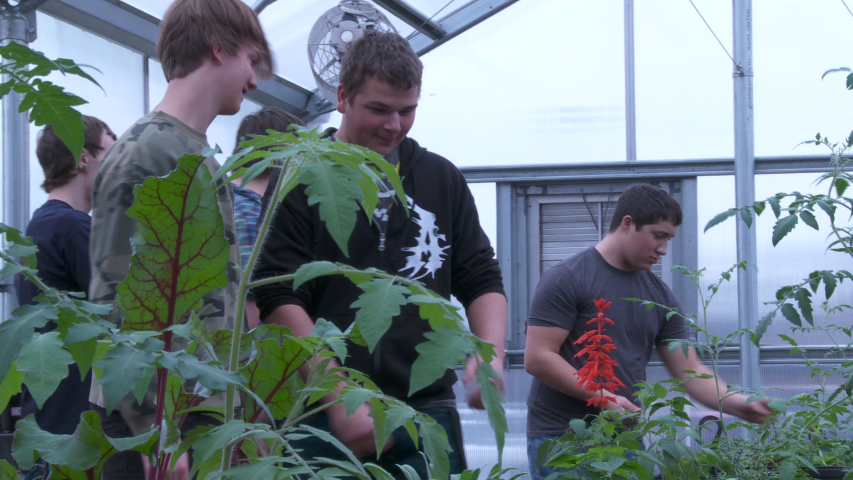 One Indiana school is taking a break from the textbooks and teaching students about agriculture with a more hands-on-approach, using a greenhouse as a classroom.
Forget the chalkboards and desks, students at the South Central Junior-High School are getting a taste of the farm by growing their own plants.
"It gives kids new skills they can take anywhere with them and they can never take that away from them," said Ag. Teacher, Kyle McCallum.
Ag teacher, Kyle McCallum has his students out in the greenhouse weekly, growing anything from vegetables and sunflowers to tomatoes, but the school didn't' always offer this pot of potential.
"I walked into this after I graduated. This was my baby. This was my project," said McCallum.
Over two years ago, the school received a $25,000 grant from Monsanto to build a 24 x 48 foot greenhouse. From there, with the help of the community, students matched the money. Today the school is working to get all its students involved.  
"We are working with the 3rd graders now. But we want to incorporate K-12 which is something out of the ordinary," said McCallum.
McCallum says this greenhouse has allowed him to work with each student at their individual levels.
"Some of these students haven't looked at the back of a seed packet and know how to plant plants yet.
We're working with students at very basic levels and working with students who have had garden their whole life. They want to do experiments with different seed packets, cloning and different planning procedures," said McCallum.
It's helped students like the school's FFA President, Sienna Meloy prepare for her career.
"This will help me because I want to go into Agronomy. The more I learn now, the better off I will be in the future and be prepared," said Sienna Meloy.
And even spark some interest with an even younger generation of farmers.
"Farming runs in my family. I just want to keep it going. It will teach us how to fertilize plants, spray, water and just take care of them," said Jack Werner.
That just may be the message, as educators hope they next generation keeps growing their interest in Agriculture all year long.
To get the greenhouse up and running, students researched, helped seal the floors and even assembled benches and shelves. Next on the agenda, they hope to install an irrigation system.