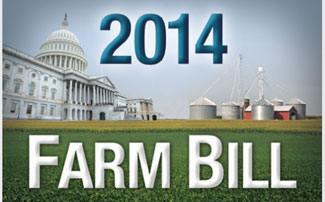 An add-on to PLC, Supplemental Coverage Option might provide more coverage for less
As if farm bill options aren't complicated enough with Agricultural Risk Coverage (ARC) and Price Loss Coverage (PLC), there's a third option in the mix. Supplemental Coverage Option (SCO) is a shallow loss crop insurance program available only to producers who choose PLC. 

SCO provides insurance between individual crop insurance coverage levels and 86%. For example, if the February corn futures price results in a $4.62 per bushel guarantee, the farmer has 75% individual crop insurance revenue protection and the APH is 185 bu., total revenue comes to $855 per acre. SCO would cover losses between 75% and 86% for a $94 per acre maximum payment (11% of $855).  

Another benefit of SCO is it's subsidized at a higherrate than higher levels of federal crop insurance, says Nick Paulson, ag economist at the University of Illinois. SCO's 65% subsidy rate compares to 80% on enterprise crop insurance units between 50% and 70% coverage. However, the subsidy is lower at higher levels of coverage. At 80% coverage, the subsidy is 68%, and at 85% coverage, the subsidy drops to 53%. Dollar per acre subsidies are largest at coverage levels of 80% or more.

When it comes to payments, SCO benefits will be paid out several months earlier than ARC and PLC, which are made after the conclusion of the marketing year. SCO payments are not subject to the $125,000 payment limit for individuals. 
Unlike individual crop insurance plans, SCO requires county losses to be triggered. A farm could experience a loss, but without countywide losses, no payments would be made, Paulson notes.

"One strategy is to reduce individual crop insurance coverage (from 85% to 80% or 75%) and add SCO," Paulson explains. While this strategy might cut premium costs due to the higher subsidy rate on SCO premiums, it creates more risks. As a result, Paulson doesn't recommend this strategy. 

While SCO is difficult to evaluate since 2015 rates won't be available until later this month, it doesn't appear to offer compelling economics for corn and soybeans in the Corn Belt, says Wayne Myers, director of farm program services for Kennedy and Coe. He thinks SCO will be most applicable in high-risk, small-gain areas with high premiums and where higher levels of crop insurance might not be available.

SCO might be a good option for wheat in the Plains states, adds Art Barnaby, ag economist at Kansas State University. For example, a farmer could buy 80% or greater coverage under an enterprise unit, which costs less. That will increase the effective strike price where revenue protection will trigger payments. Farmers could then add SCO or use the extra premium dollars to purchase private storm, hail and wind coverage, Barnaby adds. 

Unlike ARC and PLC, SCO is not available for 2014 crops. The USDA Risk Management Agency says it is available for corn, cotton, grain sorghum, rice, soybeans, spring barley, spring wheat and winter wheat in select counties for the 2015 crop year. More crops and counties will be added in the future.
For a list of SCO-eligible counties and access to 
tools to analyze farm bill decisions, visit www.AgWeb.com/farm-bill