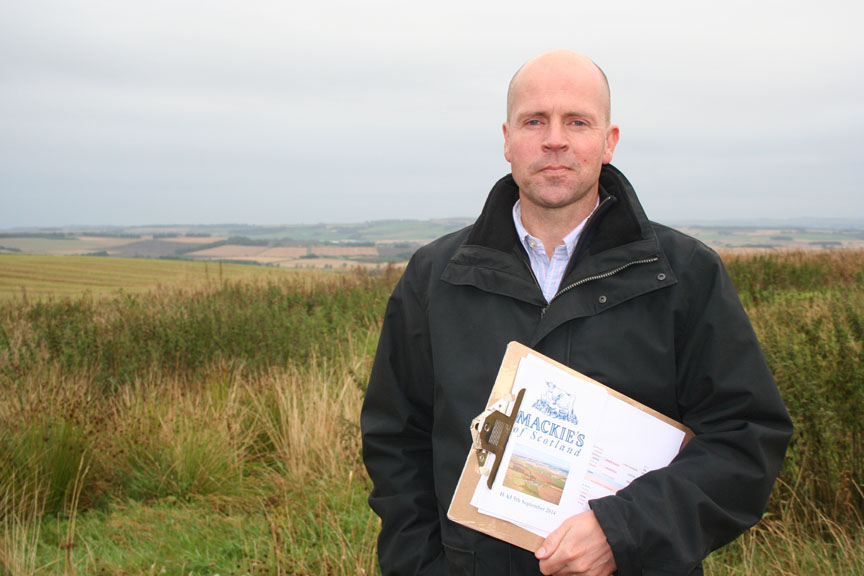 A small nation with world-class food success, Scotland sets its sights on a bigger piece of the global dairy market.
Editor's note: Dairy Today Western & Online Editor Catherine Merlo visited England and Scotland in September with the International Federation of Agricultural Journalists.
Every single second, Scotland exports 40 bottles of its world-famous whisky. 
Shipped to 200 markets around the world, the amber-colored liquor is Scotland's No. 1 food and drink export, contributing $6.8 billion to its economy each year.
It's a model of success that Scotland's dairy sector hopes to emulate on its way to creating premium products of local provenance and international prominence for the growing global market.
Last year, Scotland launched "Ambition 2025," a plan to increase its dairy sector by capitalizing on what it calls "the opportunity of a generation." The new strategy highlights Scotland's potential to produce more than 3.5 billion pounds of milk a year by 2025. That's a 50% increase from its current output. Scotland also hopes to boost its dairy exports by at least 5% every year for the next decade.
"This growth will be the product of partnership, a pursuit of added value and a direct consequence of the development of markets," says James Withers, CEO of Scotland Food & Drink. The industry-led organization is working to grow the value of the country's food and drink sector to nearly $27 billion by 2017.
Scotland's targeted milk production goal is small compared to the 206 billion pounds the U.S. will produce this year. Even so, Scotland's emphasis on marketing its dairy products overseas puts one more competitor in the international marketplace. And its relatively small volume shouldn't be underestimated. This is a country where one in seven people works in the food and drink supply chain. With the worldwide success of Scotland's malt whisky, Scotch beef and smoked salmon-–and sales of $21 billion every year-–they've clearly shown they know how to capture markets.
The push to expand comes as Scotland's dairy leaders focus on the increasing world population, expected to hit 9 billion by 2050, and the rising global demand for dairy products, especially for premium food with strong provenance and health credentials. The "Ambition 2025" plan advises Scotland's dairy industry to focus on added-value premium products such as cheese, not bulk supplies like milk powder.
Scottish-made cheese will lead in that goal with a "country of origin" label. The industry then will gauge whether to follow suit by similarly stamping other dairy products. Southeast Asia, China, other European Union countries, Canada and even the U.S. will be targeted markets.
Scotland's dairy sector faces challenges as it changes course from its traditional destinations. "The Scottish dairy industry, like the rest of the United Kingdom's dairy industry, is far too reliant on the domestic market," Withers says. Some 92% of Scottish dairy products, mostly fluid milk, are sold in the U.K., leaving the sector over-exposed to a handful of large customers. Nevertheless, Withers adds, Scotland must avoid competing in large volume markets.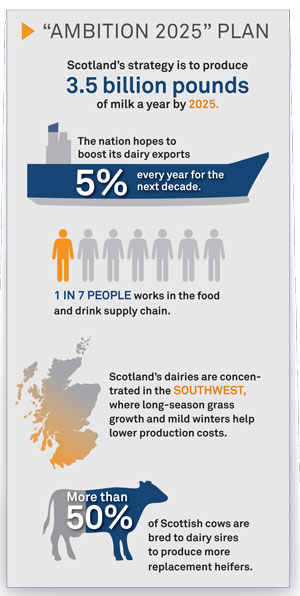 The surge in Scotland's dairy output will rely
on agricultural productivity, technology, research and marketing. Also helping its increased milk supply will be the ending of EU milk production q
uotas in 2015. Without limits on output, Scotland's dairies will rely on market signals to determine how much milk to make.
Undeterred by its relatively small milk volume, Scotland is ready to pursue distant markets. By imitating their nation's iconic whisky success and focusing on branded, value-added products, Scotland's dairy leaders are confident their long-term prospects are good.
"Real opportunity lies ahead for Scotland's dairy sector," says Withers. "This view is not the product of blind ambition. It is informed by research and the models that have been very successfully developed across other food and drink sectors in Scotland and by our competitors abroad."
Scotland's Dairies: A Closer Look
Most of Scotland's 1,000 dairies are concentrated in its southwest corner. The nation's dairy herd totals 186,000 cows, with an average herd size of 170 cows, although several dairies number 1,000 head. Holstein Friesians are the dominant breed. Many dairies house their herds in "cubicle," or freestall, housing. Most milk is marketed into the fluid market, with smaller amounts processed into butter and cheese.
The country's planned dairy growth won't be easy for Scotland's producers. Like their American counterparts, they face pricing pressures, increasing animal welfare and environmental requirements, and a call for transparency throughout the food chain.
With high input costs and volatile milk prices, many struggle to be efficient, low-cost producers. This year alone, dairy producers in the UK have seen milk prices drop as supermarkets lowered their payments in an effort to compete with each other for customer business. The Russian ban also has driven milk prices lower with the closing of a major EU market.
But leaders like James Withers, CEO of Scotland Food & Drink, are optimistic. "Scotland is as well placed as any nation to forge a successful, profitable and sustainable dairy industry," he says.
---
Mackie's of Scotland: "From Sky to Scoop"
A premium label, a luxury product and advanced on-farm technology make this Scottish dairy a winner.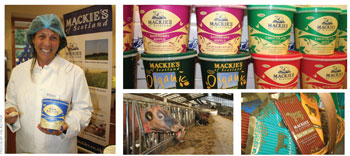 While ice cream is the flagship product of Mackie's of Scotland, the family-owned dairy operation also makes other food products, such as potato chips, ice cubes and chocolate bars. The 300-cow farm also generates wind and solar energy. Learn more about the operation by visiting its website.
On the green and gold hills of Aberdeenshire, the intensively farmed and highly productive land of northeast Scotland, one family-owned dairy has earned high regard among consumers and dairy insiders.
Mackie's of Scotland is one of the country's best-known dairies, by virtue of its premium ice cream. Sold mostly to United Kingdom supermarkets, Mackie's many-flavored ice creams have helped the company become one of the top 15 food and drink brands in Scotland. The fourth-generation dairy produces 13.5 million pounds of ice cream and generates nearly $36 million in retail value each year.
The 102-year-old, family-owned operation, located on 1,600 acres west of Aberdeen, operates a herd of 300 Holstein and Jersey cows. They feed mostly on the farm's silage and feed crops. The herd produces 19,800 lb. of milk a day, which is processed daily into 60,000 lb. of ice cream onsite. The cows live in a freestall barn year-round and are milked with five Lely Astronaut robotic milkers.
But the Mackie family hasn't stopped there. The operation makes its own packaging for its ice cream. It also produces potato chips, ice cubes and chocolate bars. Mackie's has its own website, Facebook page and Twitter feed.
Energy comes from three wind turbines atop the farm's hills, with a 2.5MW capacity. The Mackies sell their excess power to Good Energy, a renewable electricity supplier in the United Kingdom. "It cost €700,000 ($1.1 million) to connect the turbines to the grid," says owner Mac Mackie. "On a windy day, one turbine can supply the whole ice cream factory."
The farm's process of wind power to crops to cows to ice cream has inspired its "sky to scoop" tagline.
The farm already has 150kW of solar panels and plans to install a further 1.8MW by next summer to help power the farm and ice-cream facility. Mackie also is considering adding a methane digester but is watching to see if and how others incorporate the technology. "It's complex and expensive with a lot of unknowns," he says.