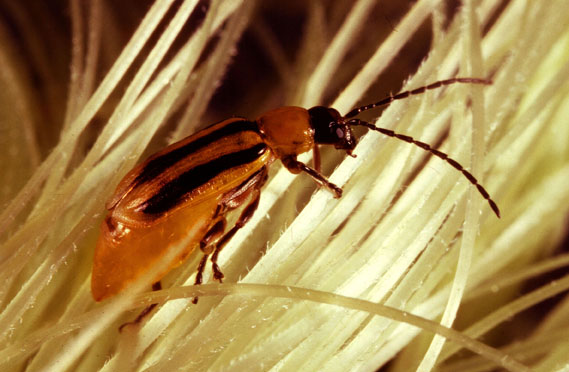 Corn rootworm larvae and beetles look to make a tasty snack out of your precious corn plants and July and August are prime times to scout for worm and beetle damage.
Check Your Roots
"There is a lot of value in assessing root damage," says Chad Kalaher, Beck's agronomist in northwest Indiana and east-central Illinois. He suggests you perform root digs before pollination since CRW larvae feed throughout June. As a rule of thumb, when you start seeing lightning bugs, you should be scouting for larvae damage.
While evaluating roots, use the Iowa State University (ISU) node injury scale to determine the severity of damage. "The threshold is 0.25 to 0.5 (node injury score) with roots eaten back to within ½" of the stalk," Kalaher says.
If you're unfamiliar with the ISU node injury scale, Purdue University also recommends treatment when you find two or more rootworms per plant during hand sorting, or when you find eight or more worms while washing roots of the 10 plants sampled.
Scout at Pollination
To assess roots for corn rootworm damage, dig plants in five to 10 locations, sampling at least 10 plants. Place the roots in water to clean off soil so you have a clear view of the root system. Examine roots by each node, counting the number of roots from each node and how many are eaten within 1/2" of the stalk. Assign a decimal number per root eaten. Each node represents 1 point, so if there are 10 roots on one node each individual root accounts for a 0.1 score. If you have three roots eaten, it would have a node score of 0.3. Add up the total for each node to get a whole plant score. If the score exceeds 0.5, consider insecticide.
"Pollination is affected when silks are clipped within 1" of the ear," says Troy Deutmeyer, Pioneer agronomist based in northeast Iowa.
While in fields, look for beetles feeding on corn silks. If you see three to five per plant, it could indicate you need to treat that field. Deutmeyer also recommends watching populations after pollination.
"We're seeing CRW beetles in September and even October," Deutmeyer says. "They don't damage the current crop [at that time] but they are laying eggs for the next growing season."
Another tool you can use to help scout at pollination is Pherocon AM yellow sticky traps. About the size of a piece of notebook paper, these yellow sticky traps have no scent or pheromones to entice CRW beetles and offer a representation of the population in your field. They can be placed in either corn or soybean fields.
"I put them in corn if I know the field is going back to corn or if I have seen extended diapause," Deutmeyer says. "Or in soybean fields, if I have western CRW variant that lays eggs in soybean fields."
Extended diapause can be found in the northern CRW variant. This means the pest lays eggs that remain dormant for about two years, waiting for the field to rotate back to corn. Identify the variant most common in your area and scout appropriately.
When placing sticky traps in fields, it's important to scatter them throughout to get a fair representation. In soybeans, place them on a post just above the canopy. In corn, place them at ear height and clear the area of leaves so they don't stick to the trap.
Purdue recommends placing a minimum of six traps in each field a week at a time and counting beetles captured. Replace traps after counting each week and continue the cycle for four to six weeks.
Record the numbers you collect weekly. Use the information on the front end to determine if treatment is needed and on the back end when planning for your next season.
Scout diligently to control CRW before they take a bite out of your bottom line.