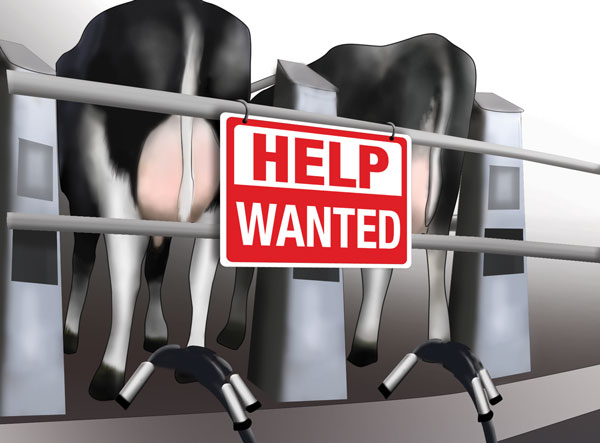 U.S. dairies seek ways to deal with labor shortages.
Pete Wiersma used to get up to 10 applicants a week seeking work at his dairy in Idaho's Magic Valley.

"Now I'm lucky if I get one person every two weeks," says Wiersma, who milks 1,500 cows near Buhl, Idaho.

Wiersma's tightened labor situation is playing out on dairies from California to New York. The shortage stems in part from the waning flow of Hispanic immigrants into the U.S. since 2007. The Great Recession, a tepid jobs recovery, tighter border controls and more deportations have slowed migration to the U.S. from Latin America, especially Mexico, according to the Pew Hispanic Center. For the first time in nearly two decades, immigrants do not account for the majority of Hispanic workers in the U.S., the center reported in June.

"The economy is improving in Mexico, and not as many people are trying to get here," adds Michael Marsh, CEO of California-based Western United Dairymen.

Non-farm industries, such as construction, hotels, restaurants and transportation, are also siphoning off dairy employees. In Texas, an oil and gas boom is luring away dairy workers, and the competition for jobs is higher than it's ever been, according to Darren Turley, executive director of Texas Association of Dairymen. "If we hadn't had such a large reduction of dairies due to the drought, when we lost 20% of our dairies over the last two years, the labor shortage would be a crisis situation," Turley says.

"I've been two or three guys short all the time for the last year," says Will Collier, whose dairy milks 2,300 cows and raises its own replacements near Snyder, Texas.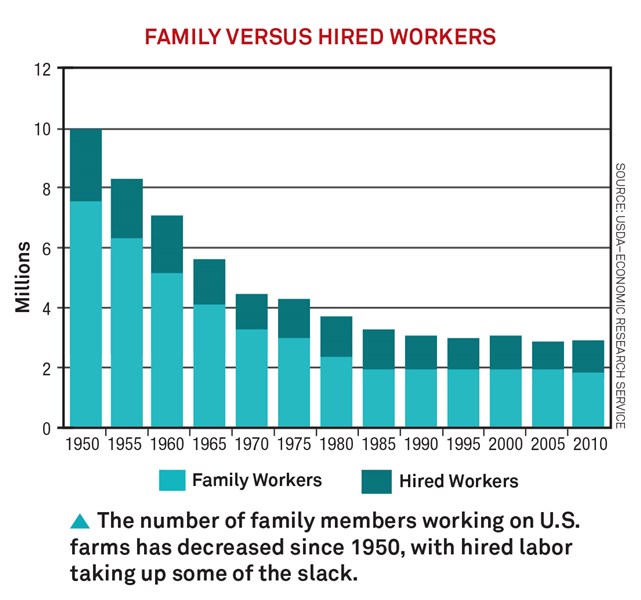 Dairy farm labor is also hard to find in New York, says Tom Maloney, a labor specialist at Cornell University.

"Dairy farmers in New York have had very good success employing Hispanic workers," he says, "but now they report that when one Hispanic worker leaves, it is much more difficult than it was three or four years ago to hire another Hispanic worker to fill that position."

Labor attorney Anthony Raimondo of Fresno, Calif., sees the same shortages in the nation's No. 1 dairy state. "A dairy client of mine mentioned his family may have to sell cows because they don't have enough manpower on the ranch," he says.

Difficulty in verifying employment eligibility and national policies that don't address the year-round needs of dairies are also constricting dairy's labor force. The labor crunch has put the squeeze on dairies in other ways.

"I've heard of milking crews coming to their boss and demanding a raise or else they say they'll leave," says Wiersma, who employs 20 people. "When you have 1,000 or 2,000 cows needing to be milked, the boss is pretty much forced to say OK."
To cope with the tight labor force, some dairy producers have worked with nonprofit organizations to bring in workers from other countries, either through internships or refugee programs. The results have been mixed.

Collier employed several workers from Central America on his Texas dairy, but most didn't make the grade. He even applied for an H-2B visa to get a worker from Honduras. "But the H-2B allows only 30,000 visas per year for all countries combined, and the requirements include a college degree or two years' experience," Collier says. "It's like the lottery—you hope you get lucky."

Still, Collier has found some success. Four of his 22 employees, including his dairy manager, are from El Salvador and have integrated successfully into his Mexican-dominated operation. As an added incentive for his labor force, he has increased wages by $1 to $1.50 per hour this past year.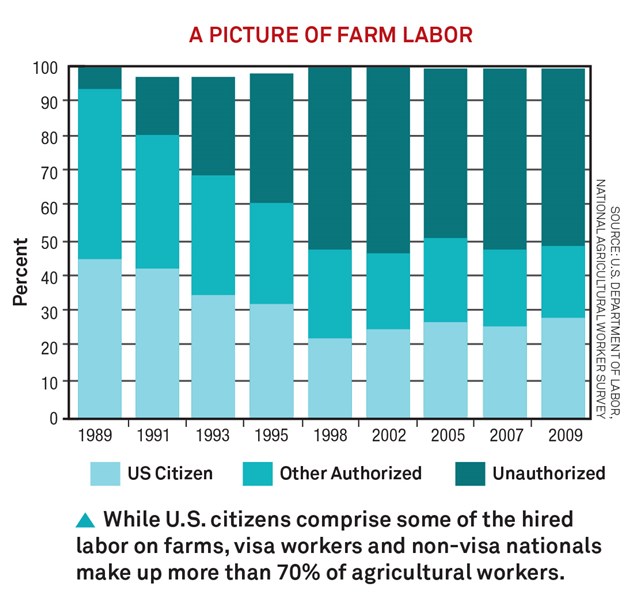 Caught between labor shortages and immigration uncertainty, many dairy managers are paying more attention to basic labor management.

At his Arizona dairy, Donald Van Hofwegen milks 3,000 cows with the help of 28 employees. "My attitude is, 'Let's create the best environment we can with the employees we have,' " Van Hofwegen says.

He's made sure his employees are paid fairly and not working extra-long hours. Yet, he says, "Money is not 100% of the solution." So, Van Hofwegen sees to it that the dairy's equipment is well-maintained and the cows are in good condition.

"Employees aren't there to service equipment, he says. "I want to make sure my guys want to work on my dairy."
But such efforts can only go so far in alleviating labor shortages. "The fix has to come from Washington, D.C.," says Rick Naerebout of the Idaho Dairymen's Association.

Although many agree, immigration reform remains elusive. Its prospects were pushed further back this year by two events, says Craig Regelbrugge, co-chair of the Agriculture Coalition for Immigration Reform. The first was the primary loss for House Majority Leader Eric Cantor (R-Va.) in May, which caused many Republicans "who had quietly signaled their support for more pieces of immigration reform to retreat," Regelbrugge says.

The second event has been this summer's crisis of thousands of unaccompanied minors from Central America crossing into the U.S. "That sucked up the last molecules of oxygen [needed for immigration reform], leaving little willingness by Republicans to consider anything beyond border security measures," Regelbrugge says.

Without immigration reform to ensure an adequate and legal workforce, dairy producers such as Wiersma say they'll do what they've always done—and hope for the best. "I will make sure I maintain good relationships with my employees," Wiersma says.
New York Legislators Defend Dairies against Aggressive ICE Raids
Labor issues have put New York dairies in the crosshairs of U.S Immigration and Customs Enforcement (ICE)—and a powerful group of legislators has stepped up to defend the state's dairy producers.

On July 1, 2014, New York's two U.S. senators and nine of its congressional members wrote to ICE, citing concerns with aggressive tactics on dairies. They requested ICE improve its communication and cooperation with the state's dairy farmers. The letter was signed by U.S. Senators Charles Schumer and Kirsten Gillibrand and congressional members Chris Collins, Tom Reed, Bill Owens, Chris Gibson, Sean Patrick Maloney, Richard Hanna, Dan Maffei, Brian Higgins and Louise Slaughter.

"In recent months, we have heard from a number of dairy farmers across New York who have experienced aggressive raids and tactics that are causing both fear and major disruptions of day-to-day operations," the New York lawmakers wrote. "Many of the raids occur without any notice to the farmer, and in many cases farmers are never contacted after the workers were detained."

Nearly a dozen ICE or border patrol raids took place on New York dairies in April and May, says Bob Gray, dairy policy adviser to Northeast Dairy Farmer Cooperatives. Most of the raids occurred in the Buffalo, N.Y., area, where some of the state's largest dairies sit. New York is the nation's fourth-largest milk-producing state, with about 4,800 dairies.

Gray, a group of New York dairy producers and other members of the state's ag community met in Batavia, N.Y., on July 24 with representatives of ICE. A number of the dairy producers in the meeting had been targets of ICE raids. "We had a very frank discussion about the aggressive actions on dairies," Gray says.

Some success has resulted. A working group has been formed with New York's ag community and the Department of Homeland Security to improve the lines of communication. More meetings will be held this fall. Few dairy producers want to participate in the ICE meetings, however, out of fear they'll be targeted, Gray adds.
Have the meetings with federal officials helped the state's dairy producers? "I'm encouraged, but the jury is still out," Gray says.
For more information on job growth, as well as refugee worker resources, visit www.DairyToday.com/employment_resources