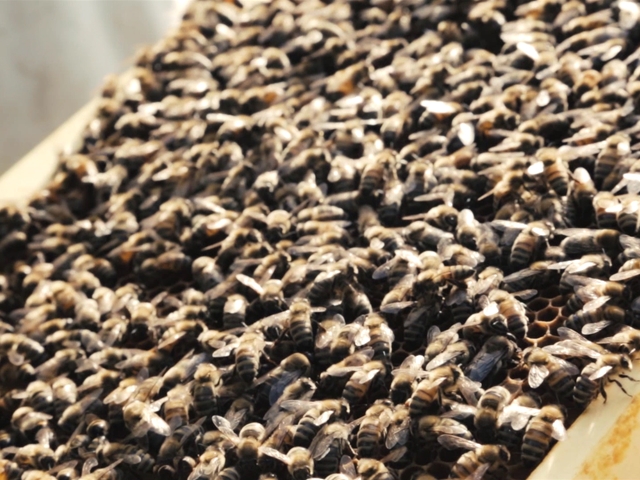 As seasons change, it's time for some critters to start thinking about warmer weather. That's true for some honey bees, as owners start transferring them from northern climates to southern growing regions for the winter. South Dakota usually ranks as one of the top five states for honey production. It was third in 2013 with more than 33 million pounds, but recent years have been challenging.
Watch the full AgDay report:
It looks like liquid gold and in a normal year in South Dakota, many harvest about 25 barrels in an eight-hour day.
"We are swamped. We are working seven days a week for 16 hours or so," said Mike Hall of R. Hall and Son Apiaries Inc.
Hall and his fourth-generation company say in South Dakota, harvest is down. He's averaging just 10 barrels of liquid honey a day, which is about 50 pounds.
"Anything over 100 pounds, we're just tickled pink. So we're obviously down, but it's better than last year," said Hall.
South Dakota's cool summer is partly to blame.
"This year has been pretty rough. It's been too cold through the month of July," said Hall.
The recent winters have hurt.
"Winter loss used to be 10% of the whole outfit. Now it's anywhere from 25 to 80%," said Hall.
Farm fields and crop protection can also be a problem.
"Everything is bad for them, all the residuals from the plants. It's 25, 35 or 40 days. Bees aren't going to go back to that plant after it's sprayed. The time that residual is over, our summer is over with," said Hall.
That is why he says he's had to do some extra maintenance to keep his bees healthy.
"Actually all the chemicals the bees pack back and store in the hive. We feed the bees supplemental pollen to make them stronger and get them healthy versus being sick," said Hall.
Now he's prepping his bees for the almond groves in California.
"Almonds need bees. They're used to pollinate the almonds," said Hall.
That's his biggest money-maker. But with the drought still occurring, Hall has some concerns.
A lack of water is forcing almond trees to be torn out.
"When that happens, they start pulling out trees. Beekeepers have to look other places. The price is cut to get their bees rented. It's not a good thing at all," said Hall.
Hall says the price of honey is good and wax is, too.  However, for that to stay as rich as it tastes, something needs to change. 
"If you really want to sit and look at a bee, every third bite we take off of a table comes from a bee when you think about it," said Hall.