The National Weather Service's Climate Prediction Center (CPC) has issued its extended weather forecasts. The outlook for March calls for above-normal temps in all areas east of the Rocky Mountains, with above-normal precip expected in Iowa eastward across the Corn Belt. Meanwhile, below-normal precip is expected in the Southeast and Southwest.
The CPC's outlook for March through May is similar for temps, but the area of above-normal precip shrinks to include eastern Illinois into Ohio. Below-normal precip is expected in the Southeast, across most of Texas and the Southeast.
As a result of the forecast and the current soil moisture profile, CPC says in its Seasonal Drought Outlook that drought should persist across much of the Southern Plains, although eastern areas of the region should see some relief. Development of drought is expected in the Northern Plains, with drought also sticking around in Minnesota and northwest Iowa.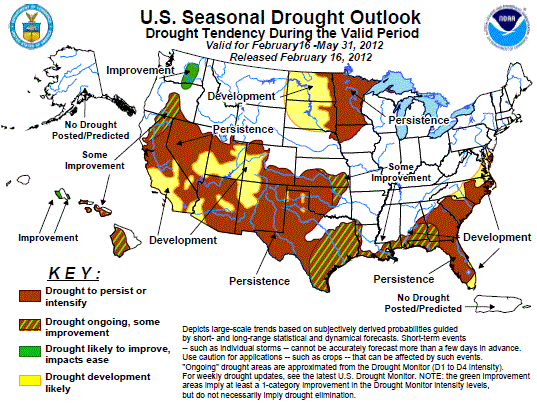 "For precipitation, there is a tilt in the odds for wetter-than-normal conditions across the Pacific Northwest and the southern Alaska Panhandle in March, and for a fairly large area encompassing the Great Lakes, the Ohio Valley, and eastern portions of the upper and middle Mississippi Valley," states the drought outlook. "In general, these same regions are expected to receive above-median precipitation during the March-May 2012 period, though with reduced coverage. Unfortunately, most of the anticipated precipitation is forecast to fall just east and southeast of where it is needed most in the upper Midwest. Most indicators support a westward expansion of dryness across the Dakotas."
Check the following links for maps of forecasts:
---