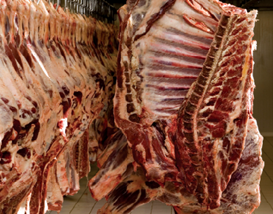 Workers at the Cargill Slaughterhouse in Milwaukee, Wisconsin will walk out the doors one final time. The company announced Wednesday it's closing the plant effective Friday. Six hundred workers will lose their jobs. Workers at the Cargill Slaughterhouse in Milwaukee, Wisconsin will walk out.
The reason is evident. There are not enough cattle coming to the plant after years of drought in the big cattle producing states. This is the second Cargill Beef Processing Plant to close. Last year, the company closed a larger plant in Plainview, Texas where 2,000 workers were let go with that closing. There's no indication this problem will change any time too soon.
It's estimated the U. S. Cattle Herd is the lowest it's been since 1951 and beef processing plants are being hit hard.
"The closure like Milwaukee is never an easy decision. It's regrettable and unfortunate. It's a sad day when we have to announce these things," sand Cargill Director of Communications Mike Martin.
Cargill has shut down two beef processing plants in just over one year. The first was Plainview, Texas. Now it's Milwaukee, Wisconsin.
"The reality is there are simply not enough animals in that region," said Martin.
Cargill Director of Communications, Mike Martin says there are other factors contributing to why the plant in Plainview closed. There were fewer feeder cattle sent to the plant from Mexico.
Another problem was News coverage of lean, finely textured beef, sometimes called "pink slime". It led to shrinking consumer demand for the beef product which impacted business at the Plainview plant.
"That particular product was something Cargill produced in Plainview, Texas. When the furry of activity took place in 2012, the demand for that product dropped by 80-percent that was an important revenue stream," said Martin.
But ultimately, the biggest problem for both plants is still the tighter cattle herds.
"It's really the cattle supply in that region versus processing capacity. We had to make a decision to close the facility," said Martin.
For now, it's about playing the waiting game until the herds are all restored.
"Expanding the herd is going to see two to three years. We are optimistic that's going to happen," said Martin.
Martin says the closure of the Wisconsin Plant is permanent. But a portion of the facility, where ground beef is made, remains open. It employs 200 people. Martin says the ground beef production is huge for the company and he doesn't see it closing.
The 600 employees who were let go will get paid for 60 more days.